Russian journalist in coma after vicious attack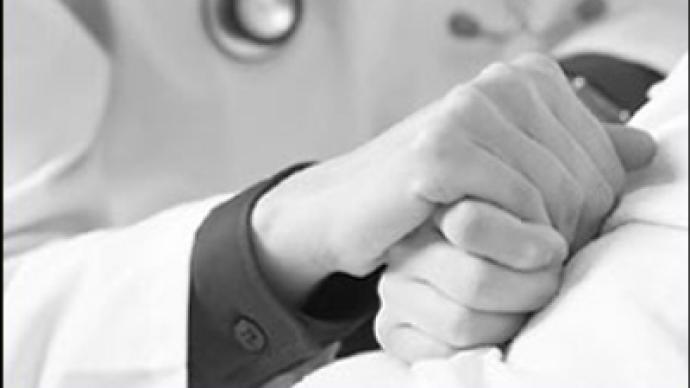 A Russian journalist and human rights activist remains in a coma after being assaulted on the staircase of his apartment block.
Yaroslav Yaroshenko – editor in chief of Corruption and Crime newspaper in the city of Rostov-on-Don in Southern Russia – has had several operations but is still in a critical condition.

The journalist was stalked by an unidentified individual as he returned home from work in the early hours of Thursday. The attacker hit him on the head before fleeing.
Yaroshenko's deputy, Sergey Sleptsov, has blamed the journalist's professional activities, according to NewsRu.com. Sleptsov was himself a victim of a similar attack in 2007.
Police authorities in Rostov region told Interfax an investigation was under way into the incident. However, according to Sleptsov, the police were initially reluctant to register the crime.
Russia's Union of Journalists will conduct its own investigation into the attack, which is the latest in a series of similar crimes against journalists and activists across Russia.
In Moscow, activist Lev Ponomarev was hospitalized in March following an assault widely attributed to his work in the Independent for Human Rights organization.
Several journalists who supported the fight to keep the Khimki forest alive have suffered from crimes which are, some say, related to their ecological concerns.
Press freedom in decline in Russia – and across the world
Ahead of World Press Freedom Day, on May 3, US-based nongovernmental organization Freedom House has released a study claiming that overall press freedom declined in 2008, "contributing to a seven-year downward trend."
Of the 195 countries and territories assessed in the survey, only 70 (36 per cent) were rated Free, 61 (31 per cent) were rated Partly Free and 64 (33 per cent) Not Free.
The study revealed that just 17 per cent of people globally live in Free press areas, while 41 per cent have Partly Free press, and 42 per cent live in environments where there is no press freedom.
The document says that 2008 was the first year that press freedom deteriorated in every part of the world.
The worst declines were seen in the former Soviet Union and the Middle East and North Africa, the report says.
"In most countries, the internet is freer than traditional media forms, providing a key space for the relatively unfettered flow of independent information and viewpoints," the survey says.
"However, while in the past several years these openings have been a driving force behind positive regional trends in the Middle East and North Africa and a number of authoritarian media environments, this year's findings show that governments are now using traditional means of repression – including lawsuits, imprisonment, and other forms of harassment – to clamp down on this novel means of disseminating information."
Burma, Cuba, Eritrea, Libya, North Korea and Turkmenistan have been rated as the world's "worst of the worst".
Iceland, Finland, Sweden, Switzerland, Ireland, the UK, Estonia, the Czech Republic, the United States, Canada, Australia, New Zealand are all among the better performers, according to the study.
As for Russia, its media space "has been steadily closed, as legal protections are routinely ignored, the judicial system grows more subservient to the executive branch, reporters face severe repercussions for reporting on sensitive issues, most attacks on journalists go unpunished, and media ownership has been firmly brought under the control of the state," Freedom House says.
In 2008 Russia dropped from 78th to 80th place on the list.
Freedom House, funded by the American government, has been conducting an annual survey on press freedom since 1980.
Meanwhile, the Committee to Protect Journalists (CPJ) has published its own list. It names the "Ten worst countries to be a blogger".
Burma tops the list of states that oppresses bloggers. The other nine places, in descending order, are filled by Iran, Syria, Cuba, Saudi Arabia, Vietnam, Tunisia, China, Turkmenistan and Egypt.
You can share this story on social media: