"Resumption of Russian grain exports will stabilize market"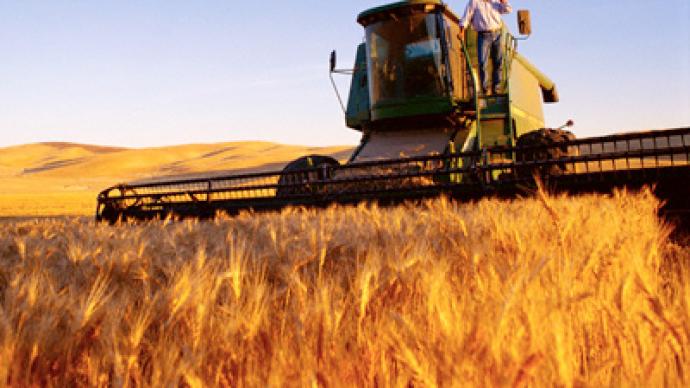 Russia will resume exporting grain worldwide on July 1, according to Prime Minister Vladimir Putin. A ban on grain exports was imposed on August 15, 2010 after widespread wildfires devastated Russia.
"From July 1 this year, we will remove the embargo on grain exports," Putin announced at a meeting with his first deputy, Viktor Zubkov, on Saturday.The government was forced to halt the export of wheat, barley, rye, corn and flour due to an abnormal drought, which saw grain yield decrease 37 percent from 2009 figures, which amounted to 60.9 million tons.According to Zubkov, the government's actions were intended to fully satisfy domestic need for grain and to keep grain prices within an acceptable price range for both farmers and consumers. The embargo was originally scheduled to be lifted on December 31, 2010, but was extended to June 30, 2011. Experts in the field say the ban has led to a huge grain surplus in southern Russia, which reduced the economic attractiveness of grain production and may lead to a decline in the next harvest.The experts are mainly positive about the government's decision, saying that Russian grain is now sought by the world market and may lead to an overall decline in grain prices.Andrey Danilenko, chairman of the Russian Ministry of Agriculture's Public Council, says that world market prices will remain stable because the volume of grain that Russia has available to export is not overwhelmingly large. "It should not have a significant effect on the world grain market, but it will definitely support more stability and less growth of prices on the grain market because obviously the increasing prices of oil today have also affected the grain prices," he said. "The most significant influence on the world grain prices today is the prices of oil," Danilenko told RT. "Obviously once we come closer to the harvest period this fall – when we will have a clearer understanding of the volume [of grain] that Russia, the US and Latin America have – then we will have a better idea of what will happen to prices…. But so far, the planting of seeds has gone very well, the climate so far looks very stable, and the projections are that Russia will have a significantly larger volume of grain this year than last year." According to Arkady Zlochevsky, president of the Russian Grain Union, removing the ban on July 1 will help remove Russia's surplus of grain, particularly in the south of the country."Now the exporters will start to buy grain, and its price will stop falling, which is very beneficial to Russian agricultural producers," Zlochevsky was quoted as saying by the Interfax news agency .The president of the Russian Grain Union also noted that the traditional buyers of grain –Middle East and North African countries, in particular Egypt – have not lost interest in Russian grain.The general director of the Institute for Agricultural Market Studies, Dmitry Rylko, predicted that Russia would export 3-4 million tons of grain in the first month following the lifting of the ban.According to Rylko, an expected decrease in European exports of grain, among other factors, led to high worldwide market prices, and "buyers believe that with the release of Russian grain, they'll stabilize or even decline."He also noted that Ukrainian grain has been already been put on the market."In competition with Ukraine and other world suppliers, the prices will go down," Rylko said.Most experts agree that a substantial increase in Russian exports should not be expected immediately after the ban is lifted, as some countries have already excluded Russia from their list of suppliers, but that an increase ought to be registered in August.
You can share this story on social media: