Russian Foreign Minister's visit to Afghanistan: meeting with top leaders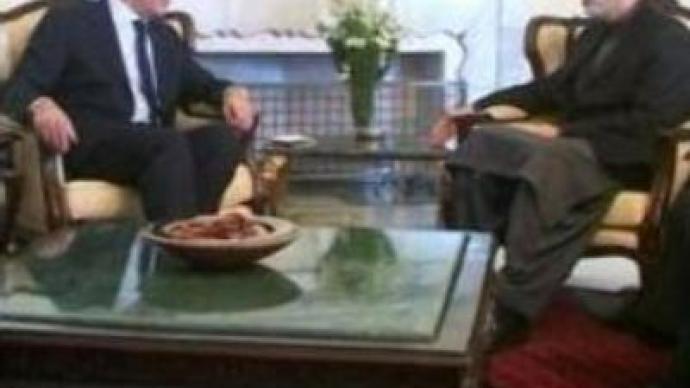 Russia's Foreign Minister Sergey Lavrov has met Afghan top leaders during his visit to Kabul. It has been the first visit by the Russian Foreign Office chief to Afghanistan in the last 5 years.
In less than 8 hours Mr Lavrov has met almost all Afghan top leaders, starting with the President of the country, Hamid Karzai. They discussed some of the hottest issues on their agenda – fighting terrorism and drug trafficking.The Russian minister has invited Hamid Karzai to have closer co-operation with the Russian-backed Collective Security Treaty Organization, in order to combat the drug trafficking problem. In September 2006 the UN claimed that the opium production in the region was at an alarmingly high level. Opium production jumped 50% and reached 6,100 metric tonnes annually. Its exports value covered half of Afghanistan's GDP.
"We should intercept caravans carrying drugs insight Afghanistan. We encourage our Afghan friends and the international presence here to do so. It should be done outsight Afghanistan, too, and the countries of the Collective Security Treaty Organisation are responsible for that. They work within the ongoing channel operation. I've repeatedly called on [Afghanistan] later to join in the operation and to ensure interaction with the help from the Afghan forces. The Afghan authorities have proved the move and, hopefully, this will be implemented,"
said Mr Lavrov.Afghanistan's Foreign Minister Dadfar Spanta said security measures alone won't help.
"The problem of drug production and drug trafficking is indeed great. Drugs are mainly being produced in areas where terrorist groups are active. But we must not only punish those responsible and increase security; we have to offer people legal alternatives to feed their families,"
stressed Mr Spanta.Russia expressed its will to invest in Afghanistan. Local electricity projects, oil and gas could attract Russia's businesses. However, the problem of Afghanistan's debt to Russia, which is estimated at around $US 10BLN, must be settled down first. An agreement on that has been reached, but it is not expected to be signed until later this spring.The two countries' ministers said they want to turn new page in the history of their countries' relations.Earlier, Sergei Lavrov inaugurated the reconstructed Russian embassy in Kabul and a special monument erected in commemoration of the Soviet soldiers who perished during the years of Soviet incursion in Afghanistan.
You can share this story on social media: