Just in case? Russian fleet to reach Syria in December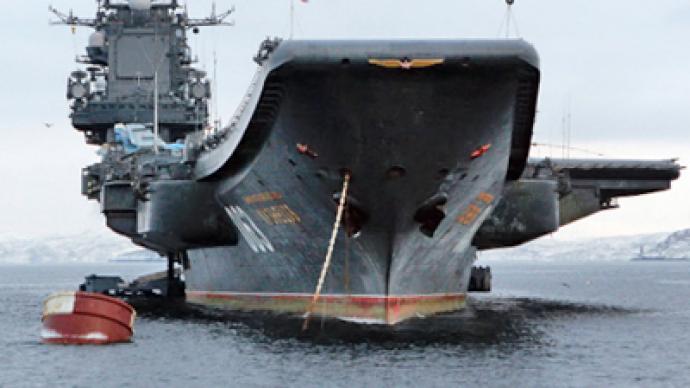 Speculation is growing whether Russian war ships heading to the Mediterranean will indeed anchor by the Syrian coast. And, despite military officials' assurances, some expect it to disturb the balance of power in the region.
­Conflicting reports are coming from the Russian military on whether the Russian battle group of three vessels led by the Admiral Kuznetsov aircraft carrier will in fact visit the Syrian port of Tartus. The long-planned mission will begin on December 10 and one source in the Russian Defense Ministry has told Itar-Tass news agency that the ships will arrive at the port by the end of December. Meanwhile, other military sources told Ria Novosti news agency that the group will only carry out drill in the Mediterranean and in the Atlantic without entering Tartus and, in any case, the Admiral Kuznetsov is too large to be able to dock there.The naval base in the Syrian port of Tartus is operated by the Russian military under an agreement signed in 1971 between Syria and the Soviet Union.Nikolay Makarov of the Russian Army General Staff said that the decision to send a group of Russian Navy warships to the Mediterranean Sea was due to "obligations before its Western colleagues" and the exercises were planned long before the tensions in Syria became so high.When asked whether the squadron of ships will approach the Syrian coast, Makarov evaded the question, saying that the Russian Navy has "a planned number of exercises which have nothing to do with Syria." The minister plenipotentiary at the Syrian embassy to Russia, Suleiman Abudiab, has also said that "one should not link the Russian warships' plans to call at Tartus with the current situation in Syria," as cited by Interfax news agency. He added, however, that Russia is a friend of Syria and its ships can visit Syrian ports any time "for repair and other reasons."Both Russian and Syrian officials are stressing that all drills and flights are planned to be performed in open waters, away from the Syrian coast.Nevertheless, with the international pressure on Syria growing and the US 6th Fleet patrolling the area at the moment, a neutral force not far from the troubled country's coast might calm some nerves.There's no speech about preventing a direct military intervention in Syria with the assistance of Russia's or anyone else's forces, Suleiman Abudiab stressed."I think clever people understand that no one needs to light a fire in the Middle East," he pointed out.
You can share this story on social media: