Russia's Navy in Crimea not interfering in Ukrainian events - Foreign Ministry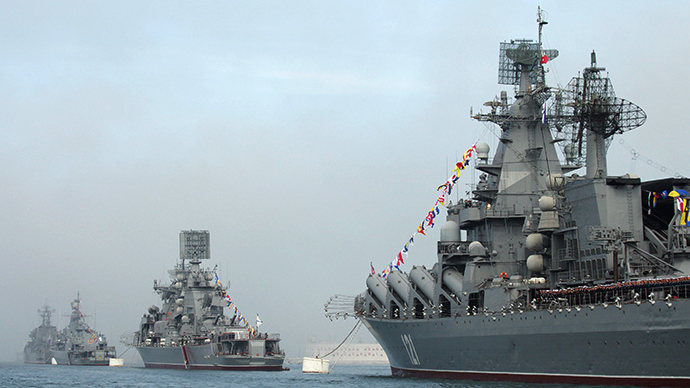 The Russian Black Sea Fleet units based in Crimea aren't interfering in the internal politics of Ukraine, Russia's Foreign Ministry said.
The ministry has also strongly objected to the statement of the NATO Council, which condemned Russia for "military escalation in the Crimea."

"All movements of the [Black Sea Fleet] detachments are explained solely by the task of ensuring safety of the fleet and preventing possible attacks by extremists and radicals against our countrymen," the Foreign Ministry said.

"Manipulation of the facts and escalation of tensions in no way promotes the stabilization of the situation in Ukraine and trust in our relations with NATO," Moscow added.

Russia's Black Sea fleet is stationed in Ukraine under bilateral agreements signed in the late 1990s.

They specify that Russia can host up to 25,000 troops, 388 vessels, including 14 diesel submarines, and 106 aircrafts, including 22 military planes, on Ukrainian territory.

Meanwhile, Russian parliamentary speaker Sergey Naryshkin has said that there is currently no need to deploy Russian forces to Ukraine.

"The Federation Council's decision only provides the right to do it and this right can be exercised if necessary. For now, there is no such necessity," he told Itar-Tass news agency.

On Saturday, Russia's Federation Council unanimously approved President Vladimir Putin's request to send Russian military forces in Ukraine to ensure peace and order in the region "until the socio-political situation in the country is stabilized."

However, the final say about sending in the troops lies with Putin, who hasn't yet made such a decision.

The authorities in Crimea requested Moscow's assistance after the new self-proclaimed government in Kiev introduced a law abolishing the use of languages other than Ukrainian in official circumstances in the country.
You can share this story on social media: