Syrian militants claim kidnap of Russian engineer, post video
Published time: 24 Oct, 2013 13:11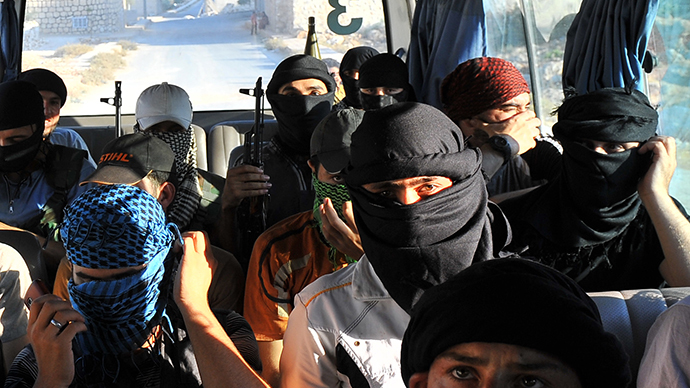 Syrian Islamist militants have released a video of allegedly a Russian engineer they captured. The man says he will be killed unless exchanged for an imprisoned Saudi. The authenticity of the video has not yet been confirmed.
The video posted online on Wednesday features a bearded, crop-haired man of about 40, who stumblingly reads from a piece of paper. He says his name is Sergey Gorbunov, he's a Russian engineer and was kidnapped by Muslims.

"They treat me well, they give me food," the man says. "But if in five days I'm not exchanged for Khaled Suleiman from Saudi Arabia – he was arrested in Hama, Syria – they will run me through."

The exchange could be done through the Red Cross, according to the text the Russian reads. 

Jaish al-Muhajireen wal-Ansar (Army of Emigrants and Supporters), formerly known as the Muhajireen Brigade, is affiliated with the Islamic State of Iraq and the Levant (ISIS), which in turn is affiliated with Al-Qaeda. According to open sources, the group is comprised of non-Syrian mercenaries, mostly participants of earlier military conflicts, and is fighting alongside the anti-Assad rebel forces.
Extremist group Jaish al-Muhajireen wal-Ansar has claimed responsibility for the kidnapping. It consists of mercenaries from different Muslim countries and is notorious for brutality, as it has regularly released videos of executions. The group is now reportedly operating in Aleppo, where intense fighting is currently going on between the army and rebel forces.

Russian diplomats are trying to verify the news of the kidnapping and the man's identity.

"The information spread by mass media is being checked by the Russian embassy in Damascus," a source in the Russian Foreign Ministry told Itar-Tass. 
Earlier in October, another Russian citizen, a traveler named Konstantin Zhuravlev, 32, was apparently abducted by an Islamist rebel group, which is accusing him of spying for the Syrian government.