Russian deputy Prime Minister reports on national projects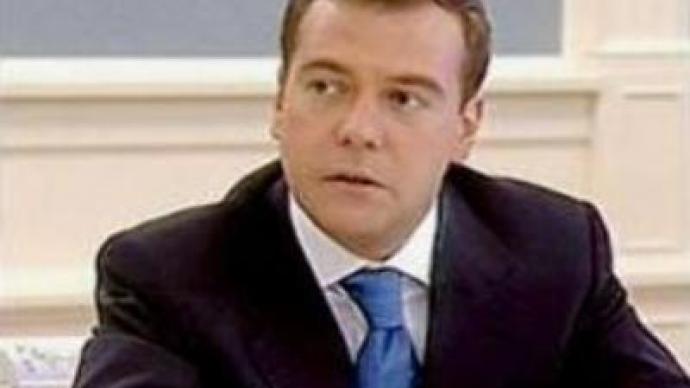 Russian First Deputy Prime Minister Dmitry Medvedev has set health and education as the country's two top priorities. Medvedev is in charge of these projects, as well as housing and agriculture.
In a report on the plans in these areas Mr Medvedev stated:
"Before the start of the National Projects last year, the health sector experienced problems such as shortage of staff. This year, thousands of University students chose the medical field for their profession. The salaries of more than 680,000 medical workers were increased. That's a third of the total number of workers in this field. Teachers and students are the foundations on which education works. Since the National Project began, regional schools have been provided with all the necessary books and other visual aids, as well as equipment for science labs. The rouble equivalent of more than $US 423 MLN was paid to almost 900,000 classroom teachers,"
Mr Medvedev said.The most important thing to bear in mind about those projects is that they are basically a programme of investing in people by investing into areas that, as President Putin said, determine the quality of life of the people in the country.Mr Putin proposed the plan for the National Projects in 2005, and the projects themselves started being implemented last year.The projects cover four areas – education, health care, agriculture and housing. What is ambitious and important about those projects is that their aim is investment into the country's infrastructure to improve the level of life and, basically, to modernise Russia. No such projects of this kind had appeared in the country since the fall of the USSR.
In addition, one of their most positive aspects is that they translate into some tangible results. For example, as part and parcel of the educational project, a competition was among Russian schools for the best school. The winner was given a grant of 1 MLN roubles. The money was spent on the so-called smart boards which, using the latest computer technology, come in handy for interactive learning in the classroom, thus replacing old blackboards successfully. Some of the students and teachers said that having used these smart boards, they have come to realise the meaning of the project in general.However, the main problem with these projects seems to be that many people still tend to consider them as vague and disconnected from reality. Therefore, one more aim of the projects is to bring tangible results as soon as possible.The authorities hope that most people in Russia will feel that positive changes resulted from these projects by 2009.Meanwhile, about 27% of respondents said they do not expect any positive changes in education in 2007, and about 35% people feel the same about the health care, 54% – do not expect any changes for the better in the housing area.
You can share this story on social media: