Russian born composer who scored Hollywood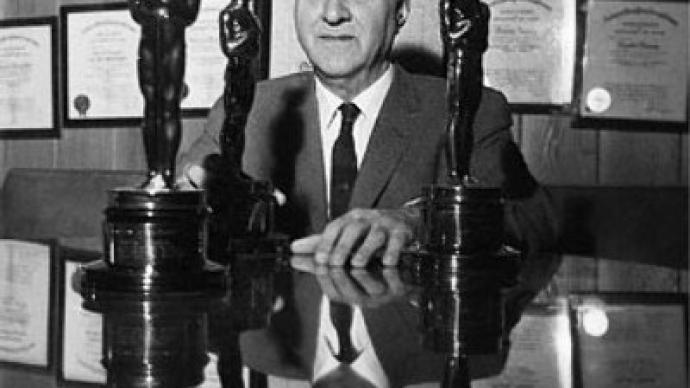 Dimitri Tiomkin is a name not so well known as, for example, Enio Morricone, but he also managed to make a very significant career as a film composer in America's cradle of filmmaking art – in Hollywood.
Born of Jewish parents in the Russian Empire's city of Kremenchuk (now Ukraine) in 1894 (or 1899 – as listed in his passport) he became one of the most distinguished and beloved Hollywood's composers.

He wrote music to over 100 feature films, and for the most respected directors such as Alfred Hitchcock, Frank Capra and Howard Hawks, who were repeatedly inviting him to work. In the course of his career he was nominated for Academy Awards for scores and songs over a dozen times and took home four of the prestigious statuettes.
He came to St. Petersburg when music and theatre art was flourishing in Russia. He spent his best student years studying piano under Felix Blumenfeld and harmony and counterpoint with Aleksandr Glazunov at the St.Petersburg Conservatory. As a student, Tiomkin earned money playing piano for silent films.

"Stray Dog" café in St. Petersburg, a place that in the beginning of the 20th century was a meeting point for the most prominent writers, poets, musicians and other artists, crossed Tiomkin's path with another gifted Conservatory student, Sergey Prokofiev, and dancer Michel Fokine.

Like many Jewish Russians, he immigrated to Western Europe after the violent policy of the Russian Revolution. In 1924 Tiomkin left for Berlin. The young Tiomkin's name numerously appeared in playbills, including being a piano soloist with the Berlin Philharmonic. Traveling on to Paris, the City of Lights, he became popular for performing contemporary Russian, German and French musical works.
Later in 1925 he immigrated to the United States, where he found the love of his life – jazz.
Moving to Hollywood in 1930, along with his wife ballerina and choreographer Albertina Raasch, Tiomkin sold several original jazz compositions to Metro Goldwyn Mayer. Soon he understood that film music was becoming a new art for the new technology of talking motion pictures. Tiomkin composed a score for an early version of Resurrection (1931) and a charming adaptation of Alice in Wonderland (1933).

In 1937 Tiomkin became a U.S. citizen.

The film "Lost Horizon" (1937) gave start to Tiomkin's cooperation with director Frank Capra, which unfortunately ended in bitterness due to artistic clashes on the set of "It's a Wonderful Life" (1946). Fred Zinnemann's High Noon (1952), won the composer a Best Song Oscar for "Do Not Forsake Me, Oh My Darlin'" (with Ned Washington). Tiomkin remained active in films until 1970, the year that he produced, directed, and orchestrated the U.S./Soviet co-production "Tschaikovsky".
Having entered the history of cinema as "Hollywood Maestro", composer behind such films as Alfred Hitchcock's "Shadow of a Doubt", "Strangers on a Train", "I Confess" and "Dial M for Murder"; the John Wayne films "Red River", "Rio Bravo", and "The Alamo"; and Capra's "Mr. Smith Goes to Washington"; Tiomkin became a prominent figure in the American film industry. Working as a film composer, he never gave up other musical activities having written songs and music for television, in addition to scores.

Whatever the genre, be it a Western, a comedy, or a war documentary, Tiomkin's talent and his sense of art helped to complete a film, each time bringing an unforgettable mood to his music.
"Finally, I get to conduct music by Tiomkin, a man who composed scores with a particularly unique sound. I think it is uncanny the way in which a composer can sound like himself, whatever the subject matter of a particular project he is working on. It struck me, as I was conducting this music, that not only do composers, in general, not write music like this any more, but there also seems to be a lack of individual style among film composers today, compared with the golden age composers," American conductor William Stromberg said about Tiomkin.

Considering his brilliant scores and songs written over a 40-year career, it is no surprise that Tiomkin deserved and received renown in cinema circles.
Diana El-Bakri, RT
You can share this story on social media: