Russian boy in coma in U.S. after charitable operation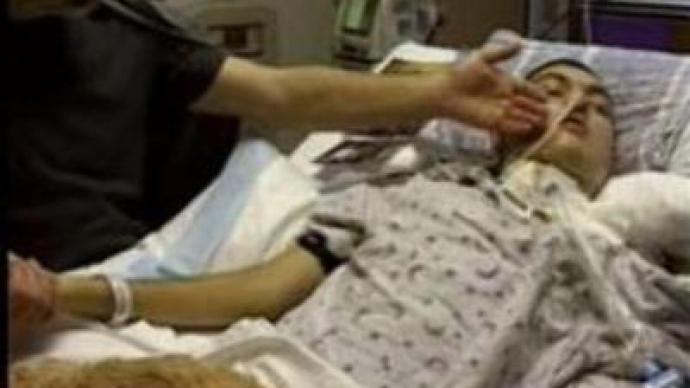 A 16 year-old Russian boy is still in a coma in the U.S., five months after undergoing life-saving surgery. David Kurbanov underwent a charitable operation to remove a brain tumour but has remained in a comatose condition since then.
For the last five months David has been laying in a coma in the St. Anthony Heart Hospital in Oklahoma City. David traveled to the U.S. from Moscow six months ago with his father Sabit to undergo complex charitable surgery to remove a tumour growing out of his brain stem. The operation was considered risky at best, but if left untreated it could have meant certain death for the 16-year old.The boy slipped into a coma shortly following the surgery, and has remained unconscious since. Hospital officials claim that David is now brain-dead and he has no hope of recovery. His father, who has been by his bedside every waking hour for the last five months, says the U.S. doctors failed to properly treat and care for his son.
"They promised that my son would wake up one or at the most two days after the operation. I spoke to my doctors in Moscow and they confirmed that if my boy is still in a coma that means the American doctors did something wrong. Instead of one operation, he's already suffered four,"
says Sabit Kurbanov, the patient's father. In an official statement the St. Anthony Hospital claims that the humanitarian effort to save David's life was performed to the highest quality of care.
But David's father claims the hospital care has been a nightmare, including transferring his son from intensive care to intermediate because the doctors say David is brain-dead. At the Georgetown University Medical Center in Washington, the foremost expert on healthcare ethics says once the patient is declared brain-dead, doctors can terminate care.
"If he truly meets the criteria for being totally brain-dead, then dead is dead, its our legal definition of death, and at that point the responsibility of the healthcare professionals is to work with the families to say their goodbyes and then to discontinue the life-sustaining treatment, "
says Carol Taylor, the Director of Washington's Center for Clinical Bioethics within Georgetown University.Carol Taylor has dedicated her career caring for chronically and critically ill patients. She says these type of charity surgeries are quite common in the U.S., and care must still be provided even if a medical mistake contributed to a patient's worsening condition.
"If there was an error for example that compromised his health status right now, so he is less functional than he would be, we still wouldn't be obligated to do bad medicine, we would still have to do good medicine. It seems the difference here is about what good medicine would look like for a patient in David's conditions,"
the expert pointed out.David's case has attracted the attention of not only the local media in Oklahoma City but activists and politicians in Washington. The Russian Consulate in Houston has also been brought in to consult the family. Now the focus will be on Oklahoma City Hospital, to determine whether the staff have done everything medically possibly as they claim, or if it was a case of malpractice.
You can share this story on social media: