Russians bikers in Iraq jail: We were beaten, threatened with death penalty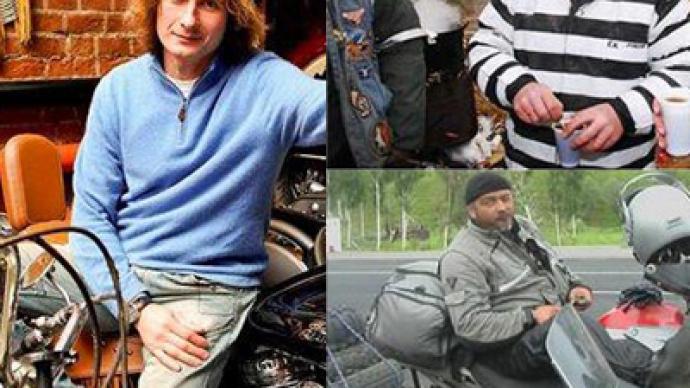 Four Russian bikers arrested in Iraq for alleged visa violations four days ago say they were beaten in jail and threatened with the death penalty. Iraq's president told the Russian ambassador the men would be released soon, but no dates were given.
The bikers' attorney Aleksandr Orlov says he is waiting for more information to come on Friday morning.The Ministry is taking all the necessary measures to help the bikers. Aleksandr Lukashevich, Russian Foreign Ministry spokesman, said that the country's embassy in Iraq will put in all efforts to seek the bikers' speedy release and their return back home. Meanwhile, fellow bikers have gathered at Iraq's embassy in Moscow to protest the arrests and show support for the travelers.
By 13:00 GMT (17:00 Moscow time) up to 200 people came to the embassy. They have delivered a petition to Iraq's envoy in Russia, asking to release the travelers. The paper has been signed by more than 300 bikers.The bikers from Moscow, St. Petersburg and Tula were heading towards Baghdad when they were first blocked by a US convoy. The tourists attempted to bypass the convoy by heading north of the capital through the city of Kirkuk.Members of the St. Petersburg motorcycle club said the bikers were detained in Kirkuk, but were quickly released after contacting the Russian Consulate. Afterwards, they continued moving towards the capital, but were repeatedly detained by men in military uniform who did not introduce themselves.Their text messages suggest they were finally taken to a military prison at a base in Baghdad, handcuffed, and that all their belongings were taken away except for one hidden mobile phone. Suddenly at night they texted they were being beaten, accused of espionage and visa forgery and threatened with the death penalty. Now some Russian media report their detention conditions have been improved after Russian diplomats intervened. The Russian Foreign Ministry's spokesman however admitted on Thursday that the bikers entered Iraq from Turkey without valid Iraqi visas.Members of the St. Petersburg motorcycle club said the bikers were experienced travellers and had got their paperwork ready before the trip."They are some of the most experienced motorbike tourists in Russia. They have travelled most of the world, all continents," said Aleksandr Orlov.
You can share this story on social media: