This belt was made for teaching...parents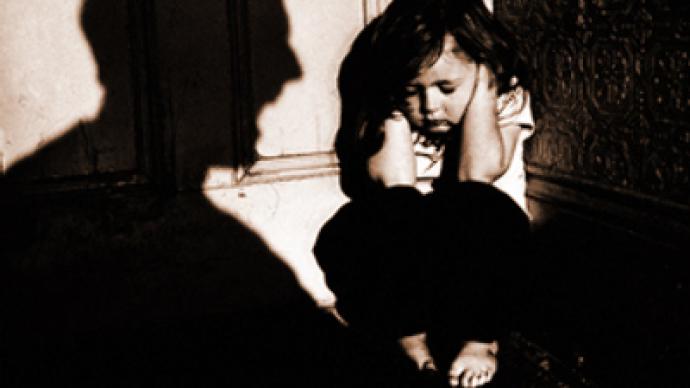 "A belt is for your trousers - a talk is for your child" - that's the message that is displayed on a new item for sale in Barnaul, the capital of southern Siberia's Altay Territory.
The belt urging parents not to beat their children comes in a number of styles and colors, including a glamorous version decorated with rhinestones. The curiosity has only just reached the shelves, but has already sparked vibrant discussion.
"So we did grow up with an occasional spanking – so what?" grumbles an older lady, examining the new arrival. "And look how many cosmonauts and scientists we used to have…surely they all knew the feel of the belt," Komsomolskaya Pravda newspaper cites her as saying.
However the creators of the idea – a group of young journalists supported by a local children's charity – strongly disagree with such an approach. They believe a child should be brought up without "reaching for the belt". The label attached to the unusual accessory contains 10 pieces of advice on how to manage without those measures. "That information on humanitarian methods of raising children will be particularly useful to parents," say the activists.
Regrettably, the attitude that "belting is part of the educational process" and "my parents did so, so will I" is quite widespread in Russia. Statistics are sad: some 2,000 children are killed by adults every year, many of them die at the hands of their parents or relatives.
According to Elena Topoleva-Soldunova, head of the working group for charity at the Public Chamber of Russia, a recent study revealed that more than half of parents in Russia use physical punishment as a method of upbringing. "And that's only those who have found the courage to acknowledge it. One can only guess how many parents beat their children in reality," she writes in the Public Chamber's blog.
However, one of the comments to her blog entry said: "Elena, you simply don't distinguish cruelty (state of the soul) from a neutral subject (belt) that can be not only a tool for cruelty, but rather a tool for correction of an angry (or stubborn) child. I agree that the belt is not a method, but it's an element sometimes needed in the educational process. I myself used it twice and the result was great. It all depends on the motives a parent has when he takes up a belt. It's better to hurt a backside with a belt for five minutes than to hurt a soul with a cruel word, possibly, for a lifetime."
Murray S. Straus, founder and director of the University of New Hampshire's Family Research Lab in the US, has been campaigning against domestic violence for more than 25 years. He has proven that being spanked as a child is linked to having a lower IQ.
Straus studied more than 1,500 children aged two to nine who were re-tested four years later. "The more spanking, the slower the development of the child's mental ability," Straus said in a news release. "But even small amounts of spanking made a difference." He and his colleagues also looked at corporal punishment practices in 32 countries by surveying 17,404 university students. The analysis found a lower average IQ in nations in which spanking was more prevalent. Belgium, the Netherlands and Germany were found to be the most restrained towards children and therefore the smartest.
Despite impressive facts and figures, by 2010, domestic corporal punishment was illegal or restricted in just 27 countries of the world – and it does not necessarily carry a criminal penalty. Many societies around the globe still believe spanking by parents or guardians to be an appropriate response to a child's poor behavior – provided it is "reasonable". This year, Russia launched an initiative entitled "Russia without cruelty to children" trying to address the problem.
And although a tiny distribution of 60 belts by a small group of activists may not seem like a lot, if it prevents one child being smacked, it was certainly worth it.
Darya Pushkova, RT
You can share this story on social media: