Breaking the 'filibuster': Russia to propose UN resolution on Gaza crisis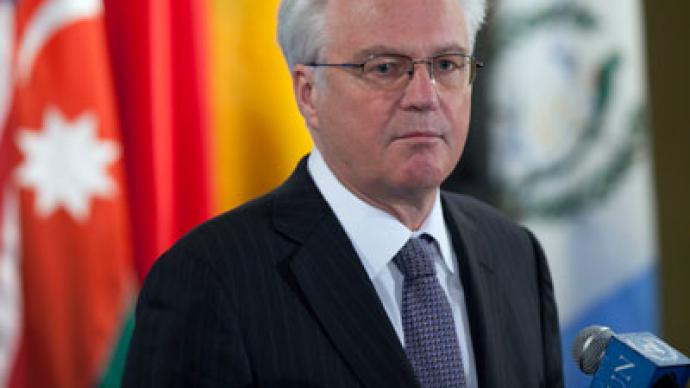 Russia is ready to propose a full resolution aimed at stopping the violence between Israel and Gaza if the West continues to "filibuster" the UN Security Council statement on the crisis.
"Russia is ready… to submit a draft resolution focusing on three key components," Russia's envoy to the UN, Vitaly Churkin told the UN Security Council during consultations on the Gaza conflict arranged at Russia's initiative.Morocco proposed a statement calling for a halt to the hostilities last Thursday and since then diplomats have had enough time to present their amendments in writing, Churkin said. "The fact that they introduced these amendments orally… after three days of having the Moroccan text at their disposal, they could, at least, have prepared their amendments in writing," he said. "To me it unfortunately looks like a little bit of a filibuster attempt."Churkin did not name any one country that has been hampering progress and indicated "quite transparently that they will not be prepared to go along with any reaction of the Security Council.""Maybe it's just a laid back attitude in a situation where we cannot afford procrastination," he added.According to Churkin the key components of Russia's resolution would be the following: An end to the violence by a negotiated a ceasefire, support for international and regional efforts to settle the crisis peacefully and a call for the resumption of talks between Palestinians and Israelis on a wider range of problems.Russia is also calling for an emergency ministerial meeting of the Quartet on the Middle East – the United States, Russia, the United Nations and the European Union. "We believe the quartet should also actively play its role in trying to prevent further aggravation of the extremely dangerous situation," Churkin said.In the meantime, the text of what appears to be a draft document has been leaked on the internet.One article of the six-point document urges all parties to address the serious humanitarian and economic needs in Gaza, and to allow for the safe and unhindered access of humanitarian assistance and personnel to the Palestinian people and to ensure the unimpeded provision of humanitarian supplies throughout Gaza. Some 110 Palestinians, including at least 24 children and toddlers and 13 women have been killed since Israel launched its Operation Pillar of Defense against Gaza. Meanwhile three Israelis were killed in rocket fire on Thursday, a day after the IDF assassinated the head of the Hamas military wing, Ahmed Jabari.UN chief Ban Ki-moon is visiting Cairo in a bid to broker a peace deal between the two sides as the threat of a ground invasion looms. On Monday, Israel warned Hamas it will step up its offensive in the Gaza Strip in 36 hours if it does not cease rocket fire.
You can share this story on social media: