Russia to boost nanotechnology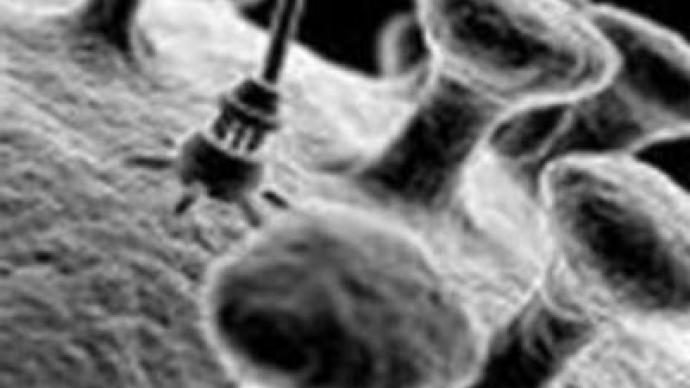 Russia is going to invest more in fundamental projects, including the development of nanotechnology, while ensuring the effectiveness of Government spending in this field.
Russian President Vladimir Putin on Wednesday visited Moscow's Kurchatov Institute and promised a multi-billion dollar investment that will propel Russia to the peak of the new technology.
"The economy of our country is getting stronger and we're looking to support our fundamental science, including nanotechnologies. We will spare nothing. But we need to have a clear structure and clear development program to finance,"
said the Russian President. Deputy Prime Minister Sergey Ivanov who was charged of coordinating efforts in nanotechnology says the promises won't stay just promises.
"The government has a federal program to create the infrastructure for nanotechnologies. 28 BLN roubles will come from the state budget to buy the equipment and build the necessary base for their development,"
said Sergey Ivanov. The Kurchatov institute is known as the cradle of Russia's atomic projects. And now it has become the epicenter of the next scientific brainstorm. Russia wants a big stake in nanotechnologies. And to aid that the Kurchatov institute will be given the status of a National Research Center in the sphere. Nanotechnology is all about constructing new matter using atoms as bricks. Combining organic and non-organic molecules, creating bacteria-size bio-robots. And yet nanotechnologies are already here. They are already being used in the industry. Ranging from defense, energy and space – to sun creams.
"We discovered that reducing particles of cremnium to nano-size we can change its properties. It becomes transparent but blocks the UV rays. So we created a sun lotion based on it. The existing ones, based on titanium dioxide, could cause cancer. Ours is utterly safe,"
says Yuri Parhomenko, Director of the Gedermet Insitute. This pioneering device can detect the hepatitis or bird flu virus, and even calculate the chances of getting cancer, analyzing just a drop of blood within seconds. It is using nanotechnologies in the same way as sophisticated new oil refineries. They are able to extricate highly valuable components, wasted in regular refining procedures. Top scientists who met President Putin confess that in some spheres, such as microelectronics Russia is left so far behind that there is no sense to try to overhaul the West. But in nanotechnology it still has one of the best starting positions in the world.Wary of missing another technological revolution, the government is eager to use Russia's oil revenues to finance the science. Scientists say the promised money can help close the technological gap.
"We have inherited a solid scientific base and a highly educated staff. Taking on from there, using principally new solutions, investing heavily in its development we can create a brand new industry, that of nano bio robotic devices,"
says Valery Nosik, Aid to Director, the Kurchatov institute.The institute's confidence that nanotechnologies, still in their infancy, will bring one of the greatest breakthroughs to the world – and to Russia – seems to become the cabinet's official doctrine.
You can share this story on social media: