Russia seals energy, military cooperation deals with South Africa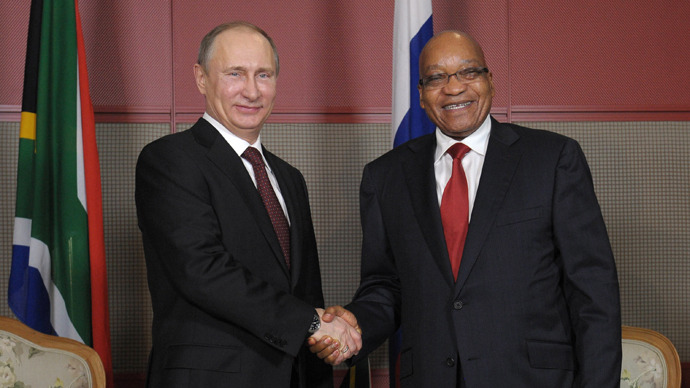 The Russian-South African talks on the sidelines of the BRICS summit produced a wide range of agreements, including a joint declaration on strategic partnership, cooperation in communications and joint construction of nuclear power plants.
Russia is ready to provide credit support for South Africa to build nuclear power plants using Russian specialists. Development of cooperation with South Africa in the energy sector has a huge potential, according to the Russian leader.
"Russia is offering South Africa not only to help with construction of nuclear power reactors, but also with the creation of an advanced nuclear power industry, including the extraction of raw materials, construction of NPPs and research reactors, design and domestic production of nuclear power equipment with Russian credit support,"  RIA Novosti has quoted Putin as saying.

Besides the nuclear sphere, Putin and his counterpart Jacob Zuma also agreed on cooperation in the field of communication. In particular, South Africa will help Russia maintain the Global Navigation Satellite System (GLONASS).
"A quantum-optical system will be established in South Africa to increase the accuracy of GLONASS signal reception in the Southern Hemisphere," Putin told journalists at the press-conference.

The Russian leader also added that the Space center in South Africa will be used to retrieve data from Russian satellites according to the "Radioastron" Project. The sides signed the essential document on Tuesday after the high-level talks.

Putin set a target to increase the trade turnover between the two states.
"Our countries have a good basis for increasing cooperation. In 2012, the turnover grew by a record 66.3 per cent, almost reaching $ 1 billion, which is almost twice more than in 2011. In the medium term we plan to increase the volume of bilateral trade by several times," Putin said, adding that Russian companies "raised more than $ 1 billion in mutually beneficial projects in South Africa, invested this money in its economy."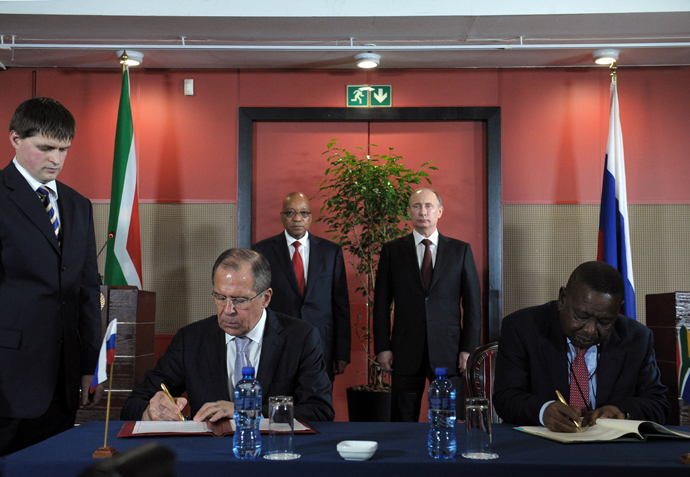 Russia and South Africa have agreed to coordinate their actions for key global problems, including the current situation in Syria.
"Russia and South Africa share common approaches to key global issues. We cooperate in the UN, the BRICS and other international organizations. We agreed to further coordinate our actions, including for peaceful solutions to the Syrian crisis," said Putin.

The Russian President also promised to think about the possibility of Russia's support for a UN Security Council resolution on the cross-border provision of humanitarian assistance to Syria.
Russia and South Africa signed a declaration on a strategic partnership.
In particular, the document states the need to "enhance military cooperation, including military and military-technical cooperation on a long term basis and other forms of interaction between the armed forces of the two countries."
The sides also agreed to cooperate in the fight against international terrorism, separatism, organized crime and drug trafficking.

You can share this story on social media: