Russia on Eastern Ukraine shooting: Kiev must fulfill Geneva de-escalation pledge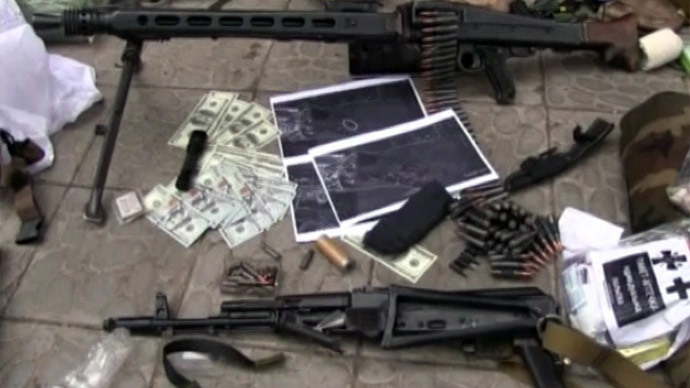 The Russian Foreign Ministry expressed outrage over the deadly gun battle on Saturday night in the protester-held city of Slavyansk in eastern Ukraine. It said Kiev must deliver on its commitment to de-escalate the violence.
Russia, Ukraine, the US and the EU agreed this week in Geneva on a roadmap to calm tension down in protest-gripped eastern Ukraine. The agreement includes disarmaming paramilitary groups on both sides of the conflict.
Yet on Saturday night an apparent raid by a Right Sector radical paramilitary unit ended with up to 6 people killed in Slavyansk, a city in Ukraine's Donetsk region controlled by anti-Kiev protesters.
Moscow condemned the violence on Sunday and said it indicates Kiev's unwillingness to implement the Geneva agreement.
"The Russian side is outraged with the provocation, which indicates that Kiev is unwilling to put in check and disarm nationalists and extremists," the ministry said in a statement.
The ministry added that Moscow "insists on the strict implementation by the Ukrainian side of its commitments to de-escalate the situation in southeastern Ukraine."
In turn, Ukraine's Ministry of Foreign Affairs urged Russia on Sunday to "use necessary influence" on the protesters in Slavyansk "to vacate illegitimately seized government buildings, unblock roads [near the city entrances] and surrender arms to prevent bloodshed."

The ministry added in a statement that an investigation into the Saturday night shooting has been launched. "Meanwhile, it is surprising that Russia's Ministry of Foreign Affairs has rushed to comment [on the situation], bringing charges while having no official data. Such hasty conclusions mean that they are either unfounded, or based on misinterpreted evaluations made by their own agents on the spot," said the ministry.

Kiev said the Russian side has to be reminded about "promises made in Geneva."

In accord with the Geneva document, Ukraine must launch the disarmament of all paramilitary groups. However, there have been no steps taken yet in disarming the Right Sector, which is widely blamed for the violence in the country.
The Geneva document agreed on Thursday after marathon negotiations is aimed at defusing the Ukrainian political crisis. In addition to disarming paramilitary groups, it provides for an amnesty for protesters not involved in violent crimes and preparation of constitutional reform to provide greater autonomy for Ukrainian regions.
Journalist Manuel Ochsenreiter told RT that he thinks the incident in Slavyansk is a provocation made by Kiev, as the coup-imposed government is escalating tensions "to get into a bigger conflict with Russia, to call for the support of the West."

"Looks like the Right Sector is playing the role of illegal infantry of the Kiev government," he said."The government in Kiev is not acting on behalf of its people anymore."
You can share this story on social media: