NATO rolls out red carpet for Russia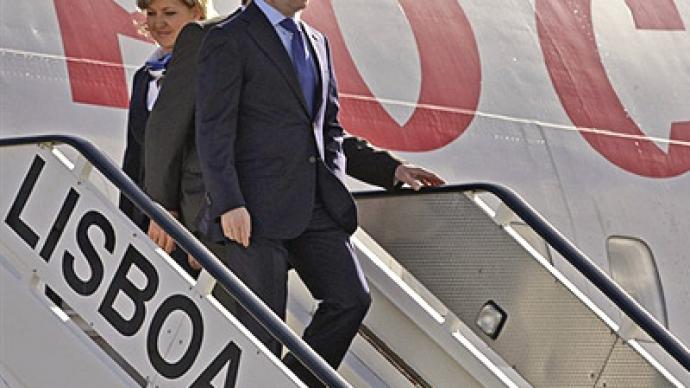 President Medvedev says the hostile period between Russia and NATO is over. Moscow and the Alliance have agreed to boost collaboration on one of their most divisive issues – missile defense.
Russian president Dmitry Medvedev arrived at the summit of the former Cold War military alliance to leaders welcoming him with open arms.Leaders on both sides seemed to indicate they plan to co-operate, after NATO-Russia talks they hailed as "historic"."Today marks a true fresh start in NATO-Russia relations," NATO Secretary General Anders Fogh Rasmussen said."It spells out our desire to pursue a strategic partnership. It means we have overcome the difficulties of the past," Russian President Dmitry Medvedev added.Missile defense plans under the Bush White House provoked the most serious rift between Russia and NATO since the Cold War. Now the Alliance wants Russia to join in – but Russia wants more than just sweet words."We have agreed with our NATO partners that we will pursue dialogue on the European ABM. Our main guide here should be that our participation ought to be equal and I will stress this – it can only be as partners," Medvedev said. "No other form of participation for the sake of appearance is acceptable. Either we participate fully – we exchange information, take part in decision-making – or we do not participate at all."The US reset of relations with Russia has brought NATO to woo Moscow; once the great enemy, but now courted as a key potential ally."Together we've worked hard to reset the relationship between the US and Russia which has led to concrete benefits for both our nations. Now we are also resetting the NATO-Russia relationship. We see Russia as a partner, not an adversary," US president Barack Obama said.Russia and NATO have reiterated common challenges to be fought – from the spread of weapons of mass destruction to terrorism.Russia has pledged more help to NATO in Afghanistan, with transport access and more resources to fight narcotics there, and, for the first time, in Pakistan.Despite all the warm words, there are still differences – notably regarding the South Ossetian conflict over two years ago. In 2008 NATO backed Georgia, which Russian forces were forced to fight after the South Ossetian civilian population came under Georgia's military attack. And while NATO seeks new purpose and allies, others say the Alliance belongs in the past. "How should this alliance be used and against whom? If at all? The major problem for NATO – and of course what it does politically and militarily – is that it reinforces, at least for the time being, the imbalance between the US and European NATO member states," says political analyst Thomas Klau.Perhaps there is no better example of the international discontent over NATO and its policies than on the streets of Lisbon, where citizens have come from all over Europe to protest the alliance and the goals being set at its summit."What we have is a very powerful military alliance with no democratic accountability. The leaders announcing their statement, no parliament is going to get a chance to vote on it, and as a result, everyone's military expenditure is going to go up," said British MP Jeremy Corbyn. "The message is entirely wrong. NATO is out of date and out of time. We need a world of peace and justice, not one preparing for yet more wars."And after introducing a new strategic concept at the summit, NATO's challenge now is to turn that concept into reality – where top on the list is forging a lasting partnership with Russia.
You can share this story on social media: