Russia marks 64th anniversary of the battle of Stalingrad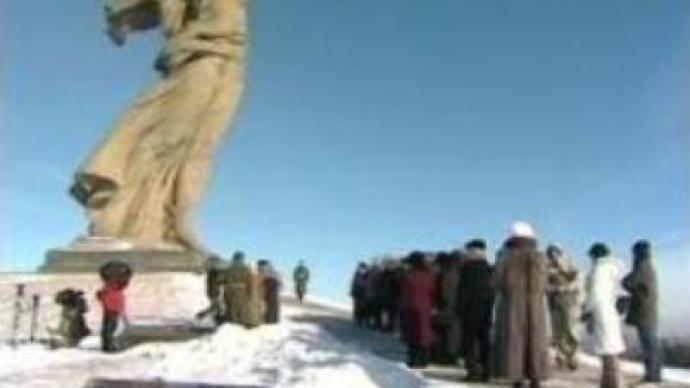 Russians are marking the 64th anniversary of the World War Two battle of Stalingrad. The 200 day standoff between the Soviet Army and Nazi Germany claimed the lives of almost 2 million people.
The Battle of Stalingrad which is considered the bloodiest battle in human history was the turning point of WWII, which marked the start of the liberation of the Soviet Union. The Nazis planned to take over the oil-rich Caucasus but Soviet troops in Stalingrad prevented them, forcing Adolph Hitler into a long retreat out of Eastern Europe. Commemorative services are being held in Moscow where a somber military procession was followed by the laying of flowers on the tomb of the Unknown Soldier. In Volgograd which was known as Stalingrad until 1961, thousands visited Mamayev Kurgan, a hill around which the fiercest fighting took place. It is now home to a pantheon of glory and a monument to the motherland. Very few witnesses to the battle are still alive. Not as active as they used to be, they still put on their military decorations and met with their comrades to remember those who gave their lives in the battle against the Nazi war machine. Sixty four years later, battle veterans are still unsure how they survived those 200 bloody days and nights. Zoya Kabanova reminisces on how she helped the wounded cross the Volga River under constant Nazi air strikes.
"I'm a great swimmer and I grabbed everyone I could from the freezing water, but how many could I save? I still wake up at night, shivering. Still scared,"
she recalls. 85-year old Nina Mayorova hasn't missed a day at work at the Veterans Union in ten years:
"How did we survive? I don't know… we just did,"
she remembers. Less than 24 hours – this was the average life expectancy of a Soviet soldier during the siege that raged for 199 days. Between 1.7 and 2 million human lives were lost from both sides, making it by far the bloodiest battle in human history.
You can share this story on social media: