Russia learns compassion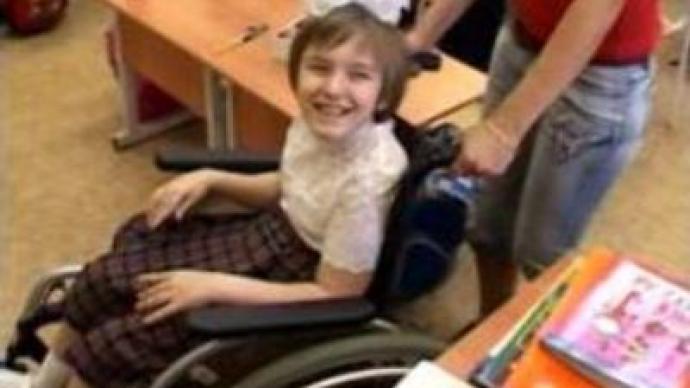 It's world Child Protection Day. In Russia, children's charity UNICEF is working hard to break the stigma attached to children with disabilities, bringing them into mainstream schools through its inclusive education programme.
UNICEF launched the initiative back in September 2005. It's now underway in five Moscow schools. It's a project, they say, designed to change attitudes, making the school fit the child, and not vice versa – and one they want to see expanded over the next ten years. Together with its local partners, UNICEF offers teacher training in working with disabled children, and gives financial and emotional support to the families.It's a daunting task in a country which lags far behind its European counter-parts in its acceptance and tolerance of disability.
"The fist thing is to change the attitude and prospective of the policy makers. How does one do that? By practical work. One has to prove it on the ground with a small number of schools. The critical mass – once one achieves it, then hopefully one can change the mindset at the policy level. That's the way to go forward,"
believes Karl De Roy, UNICEF president in Russia and Belarus.Estimates put the number of mentally and physically disabled children in Russia at over 600,000. And although Moscow's deputy Mayor's pledged to plough $US 1.6 MLN into making the capital "child friendly", nearly 50% of such children receive no education at all or are segregated into special institutions.But through the support of Russian celebrities, like pop star Oleg Gaspanov or a former Miss Universe Oxana Fedorova, UNICEF is hoping the message will spread.Olga, who suffers from cerebral palsy, goes to a school, which takes part in the UNICEF inclusive education programme. Olga is a bright and happy nine-year-old. She's popular with her classmates, joining in with as many extra-curricular activities as she can.Irina, Olga's mother believes her daughter is living proof that when disabled children attend a normal school, it doesn't only benefit their physical and mental development.
"Olga's classmates' see adults working and interacting with her and they accept her and her disability. It teaches them acceptance and compassion,"
she says.Caring for her child is a full time job, but Irina says she thanks God everyday for the help they receive. She remains upbeat about Olga's future in Russia. Things here, she says, are getting better, however slowly.
You can share this story on social media: