Seven still missing after 'freak wave' capsizes Russian fishing boat off Japan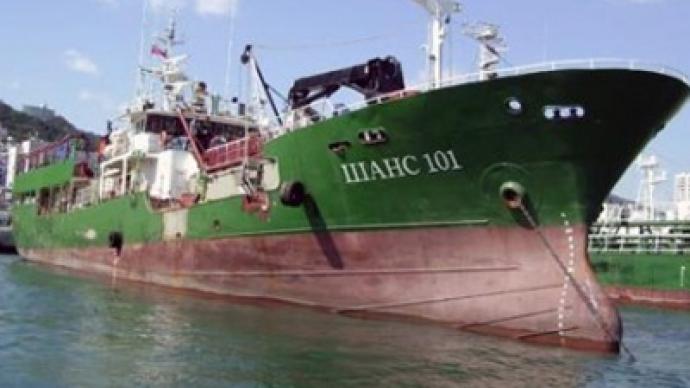 Fifteen fishermen have been saved after a Russian vessel with 30 on board sank in the Sea of Japan Sunday afternoon. Survivors say eight fellow crew-members died of hypothermia and their bodies were eventually dumped to unburden a lifeboat.
The crew is thought to have consisted of 19 Russians and 11 Indonesians. The Chance-101 would not contact its office at the regular time on Sunday. Ten hours later, the crabber was found floating upside down. According to the rescued fishermen the vessel had been maneuvering in the open sea when it was hit by a "fatally powerful" wave.  Twenty minutes after the wreckage was discovered, passing freighter Anatoly Torchinov picked up a lifeboat with 10 people on board. Those survivors told prosecutors that "initially 18 people were aboard, but eight of them died from hypothermia and their bodies were thrown overboard" because the vessel was "overloaded".Five more survivors were picked up by crabber Talan on Monday morning.The rescued fishermen are now receiving medical treatment for frostbite. The search mission for the remaining seven fishermen unaccounted for, involving five aircraft and 10 ships, had to be stopped for the night.The Chance-101 was a 640-ton crabber built in South Korea in 1988. It's the property of the Vladivostok fishing farm Vostok-1.The farm's office is currently being searched by prosecutors, who investigating two likely causes of the incident. One is a breach of the laws of navigation by the crew; the other is the technical deficiency of the vessel.
You can share this story on social media: