Tough search for affordable night's sleep in Russia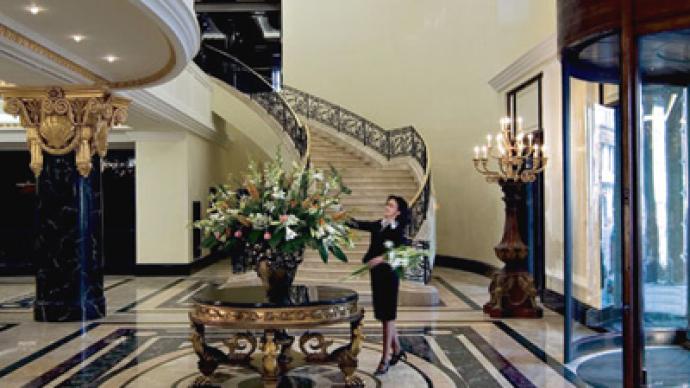 Russian hotels are the most expensive in Europe, with Moscow boasting a number of luxury accommodations.
As budget rooms are scarce in the Russian capital, many believe new developments in other parts of the country might give tourists a chance to experience Russia without shelling out a fortune.One five-star hotel in Moscow offers superb views of Red Square and probably everything else that any traveler may dream about, from top quality butler service to your own personal office decorated with dark cherry and burl wood. But as with any other luxury accommodation, it comes with a very high price tag: the Presidential Suite is US$17,000 a night."In some ways price never scares people because people are ready to pay for quality," believes Sandeep Walta, General Manager at Ritz-Carlton hotel in Moscow. "And if you can gain the confidence of the guest that you are providing quality then people are ready to pay for the quality. And it is expected and people are aware that Moscow is an expensive city."And expensive it is. With an average price tag of €147 per night, Russian hotels are currently the priciest in Europe. Norway is second highest, while Sweden, Switzerland, Denmark and the UK occupy the rest of the top six. Hotels in Greece seem to be a real bargain, costing less than half of what you might pay in Russia – just €72.Finding simple and cheap accommodation in Moscow has never been more difficult. Richard Lines offers his guests a bunk in his Napoleon Hostel for just a fraction of what you might pay at the Ritz, and his place is always packed with tourists from all over the world. He is certain that the recent hotel craze is simply down to supply and demand."There are not enough hotels. Also, the hotels that are here, seem to be concentrated in the 4-5 star area and there's very little two to three star, for budget accommodation," Lines explained.Other experts believe that the key to the problem lies in developing new destinations, rather than refurbishing and expanding the old venues in the capital. Aleksander Belokobylsky, at the alpine ski resort in the Southern Russian city of Sochi, says the newly-developed resort is well-prepared to suit all tastes and budgets."There is only one five-star hotel at the resort, the rest are three or four stars, and they are monitoring the visitors' needs," says the executive director of Rosa Khutor resort. "In any case it's clear, that the market will make its own corrections."So, if you are planning a trip to Russia, make sure to check out some new destinations slightly off the beaten track. With events like the 2014 Sochi Winter Olympics, these places offer new impressions for your journey without hitting your wallet.Many Russian hotels remain unaffordable for tourists, but that is hoped to change with new chains entering the market. But while there will always be a place for luxury hotels in the capital, people outside Moscow, like in Sochi, will still be able to open their homes to guests – and let visitors experience true Russian hospitality without spending a fortune.
You can share this story on social media: