'Distraction from NSA scandal': Russia denies allegations of spying on G20 leaders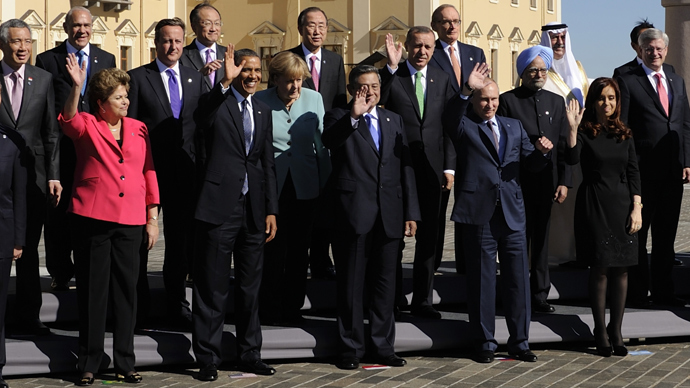 Russia did not attempt to snoop on the world leaders at the G20 summit, President Vladimir Putin's spokesman has said. The media reports earlier claimed that Russia gave foreign delegates USB sticks and chargers capable of stealing data.
"We do not know, what sources this information may have come from, but clearly it is nothing else but an attempt to divert attention from objective problems, which dominate the agenda between the European capitals and Washington, to some ephemeral, non-existent ones," presidential spokesman Dmitry Peskov told RIA Novosti on Tuesday.
Earlier on Tuesday, the Italian daily, Corriere della Sera, published a report claiming that at the September G20 summit in St. Petersburg Russia presented the foreign delegations with USB flash drives and mobile phone chargers capable of "undercover detection of computer data and mobile phones."
The unnamed "diplomatic sources" quoted by the daily said the EU President, Herman Van Rompuy, was surprised by the gift and decided to check the gadgets upon his return to Brussels. German intelligence services were asked to conduct some tests, the media claimed, saying that preliminary results showed "positive" that the gifts could be used to snatch data from devices, much like Trojan horse malware.
The Italian media then claimed a memorandum has already been sent to G20 members, urging diplomats to inspect the gadgets and "take every possible precaution in case these items have been used." Should the tests by individual member states prove the gifts were a trap, a formal protest with demands for clarification will be launched, the daily added.
A spokesperson for the European Commission (EC), Frederic Vincent, has refused to comment on the issue, saying that his colleagues have seen the media reports and are checking their credibility. Van Rompuy's office also said it would not comment on the allegations.
While some sources of the Italian daily also suggested the whole USB stick spying story may turn out to be "a trap to embarrass the Russians," other diplomatic sources quoted by  the Telegraph were "baffled" by the allegations. It would have been a "schoolboy error" to insert such gadgets into computers with sensitive information – something next to impossible for a security-trained diplomat, the sources stressed.
"We've not found any evidence of a problem," the British media quoted the EC spokesman as saying.
The Italian media broke the alleged spying story in the wake of the NSA leaks scandal, recently reheated with reports that the American agency has spied on European leaders and intercepted tens of millions of calls by European citizens for "years."

The NSA's alleged intelligence gathering has caused a stir in relations between the EU and the US, with top politicians demanding explanations from Washington, as well as proposing to take measures against the indiscriminate surveillance.

You can share this story on social media: