Forest man not out of the woods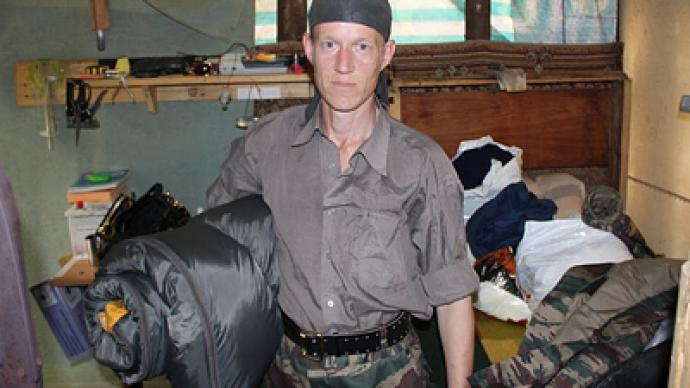 A real life Russian man of the forest has become an internet sensation, but that was not what Victor was hoping for. After failing to settle in the city, he chose to live in isolation, preferring to stay away from people.
A freezing forest near Moscow is a treacherous place, but one man has taken on the elements. A troubled life in his home town caused Victor to flee his home on the other side of Russia."Starting from the age of seven, I felt I had to run away from a hard life and bad luck, so I came to Moscow but I lost my documentation," he said. "I could not work or travel anywhere else because of this. I chose to live in the woods and built this shelter."Inside the shelter it is surprisingly cozy. It is a simple life, but also perhaps a bit of a lonely one."I am not a sociable person, I never drink and I do not like noisy parties," Victor said. "This way of life suits me better."An impressive craftsman, Viktor has even built his own generator to power electrical equipment."I have good hands and I love to build and create these things," he said.Viktor went viral after pictures of his handiwork were posted online. Since then he has had trouble from people who have come to track down his cabin. "The people who come are sometimes rude and threatening," he said. "They go through my things and take photos of themselves. Then they post them on the internet and write nasty things about me."When Lyubov Lukina came across Viktor's story she tried to help him."We offered Viktor a house which he accepted at first," she said. "It was a warm, gas-heated house, with a power supply and in return he would help out with manual labour but he decided not to stay. I think he just had the urge to be back in the forest."  Conventional living just does not suit Viktor, who is clearly extremely self-sufficient – although he does rely on help for some food and equipment."You know for the first time in my life I have a home, my own home," Victor says. "I feel happy here. I am a lone wolf if you like."Amongst the trees and the snow Viktor has found a way of life he enjoys. Now he only asks that other people respect it.
You can share this story on social media: