Sochi 2014 Olympics: Russia wins gold, silver in figure skating pairs (PHOTOS)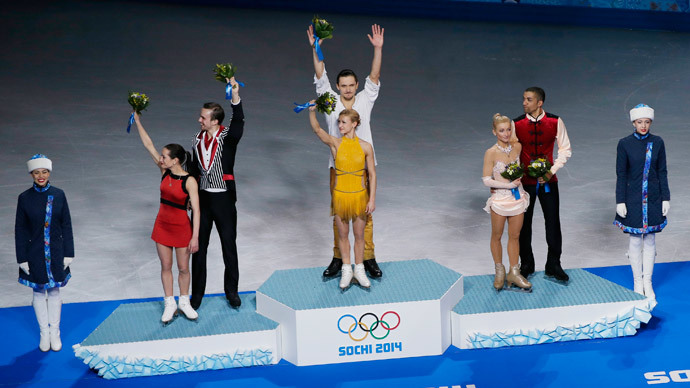 Figure skaters Tatyana Volosozhar and Maksim Trankov have brought Russia its second gold medal at the home Games in Sochi.
The world's top pair, who won the short program with the world record result of 84.17 points, left their opponents few chances in the free skate.
Volosozhar and Trankov, who performed to 'Jesus Christ Superstar' by Andrew Lloyd Webber on the ice of the Iceberg Palace, received 236.86 points from the judges.
Russia takes gold in Pair Free Skating #sochi2014pic.twitter.com/gc63WgM9L1

— Sochi 2014 (@Sochi2014) February 12, 2014
Humble Volosozhar apologized for being a bit stiff during the performance due to incredible concentration on technical elements of the program. She said that the pair's program was no more than the fruits of their 4-year-long practice.

"We have managed to complete the work that we have practiced for 4 years. We have managed it 100 percent. We brilliantly showed our free skating program," Volosozhar told sports.ru

Trankov explained that the main goal of their performance was to win the medal and not to show off in front of the crowd.

"We cannot say that today we skated to break the record or to splash out emotions. Today this was not required. It was necessary to win the gold medal and not amaze the audience or judges," Trankov said in an interview to NTV+ channel.

The figure skaters said that support from the fans helped calm their nerves before and during the performance.

"Of course, we are happy, we are incredibly glad that we had so much support. It helped us a lot. But we were still insanely worried," Volosozhar said.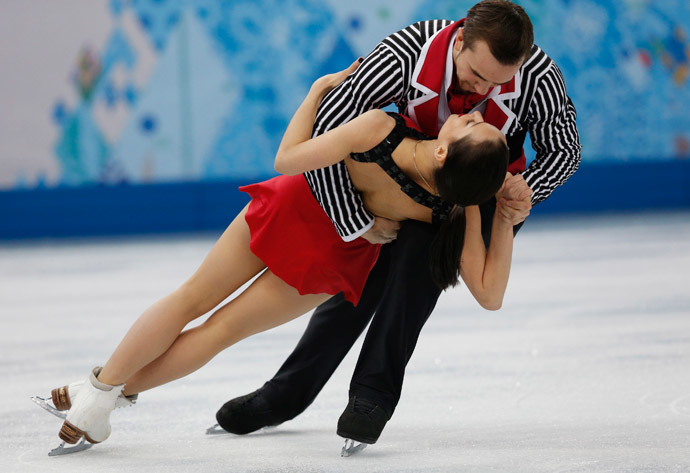 The silver went to another Russian pair of duo Ksenia Stolbova and Fedor Klimov as they climbed from third place in short program, scoring 218.68 points.
Russian President Vladimir Putin has congratulated the winners their coaches and everybody who helped the figure skaters train for a "brilliant and beautiful victory."
The German duo of Aliona Savchenko and Robin Szolkowy had to settle for bronze after two falls in the free skate and overall result of 215.78 points.
It's the second big success for the home figure skaters in Sochi as both Volosozhar /Trankov and Stolbova/Klimov were part of the country's squad, which won gold in the inaugural team event.
Russia's Olympic figure skaters also won gold in the team figure skating event. Fifteen-year-old Yulia Lipnitskaya has become Russia's youngest athlete ever to win a gold medal at the Winter Olympics. After her free skate to music from 'Schindler's List' Lipnitskaya received a standing ovation.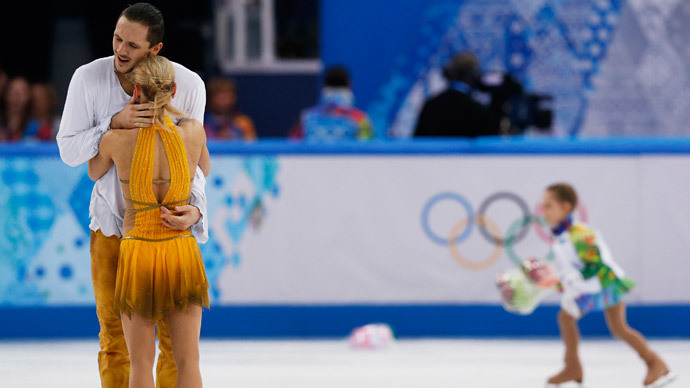 You can share this story on social media: