Opportunism overtook common sense in EU decisions on Ukraine - Russia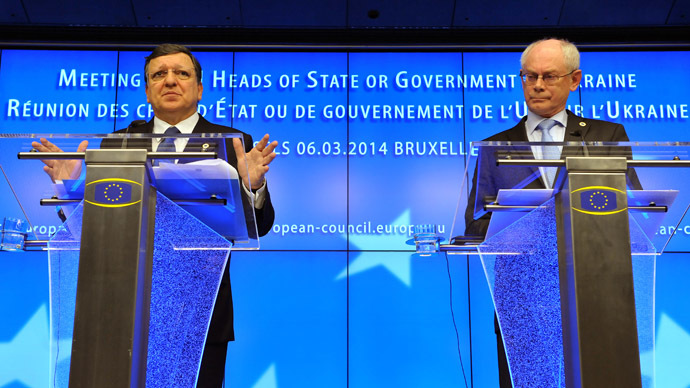 Russia is accusing the EU of taking an "extremely unconstructive position" by freezing talks on easing visa barriers over the Ukraine crisis.
"Opportunism overtook the common sense that dictates at least to listen in to the position of the EU's strategic partner, Russia," the statement on Russia's Foreign Ministry website said.
"Russia doesn't accept the language of sanctions and threats, but if they are carried out in practice, they won't remain without response," the statement added.
The Russian Foreign Ministry's statement follows the emergency EU summit on Thursday.
The EU voted to suspend visa-liberalization discussions with Russia, and talks on a new economic co-operation package. However, European leaders stopped short of imposing asset freezes or travel bans on specific individuals.
The EU said it would also decide on "additional measures, such as travel bans, asset freezes and the cancellation of the EU-Russia summit," if talks between Russia and Ukraine don't start.
German Foreign Minister Frank-Walter Steinmeier on Thursday said sanctions against Russia would "harm the possibilities to reach a diplomatic settlement" to the Ukrainian crisis, Itar-Tass quotes.
The top German diplomat said that while the recent developments "cannot be ignored," Brussels should leave the doors open for negotiations.
"We have not reached any breakthrough, but I believe it would be irresponsible to give up on international efforts," Steinmeier stressed.
You can share this story on social media: