One-fifth of Russian city apartments have no hot water, one-tenth no plumbing or heating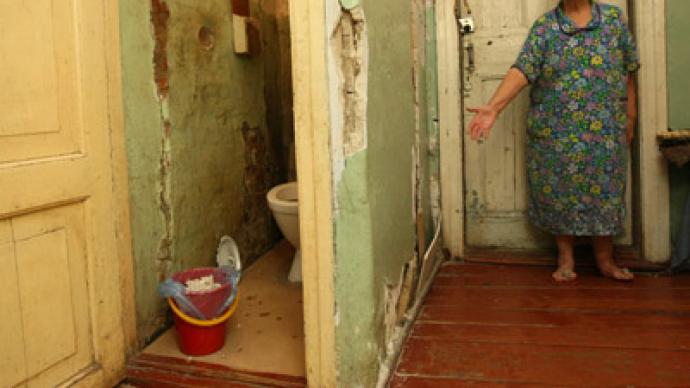 Tens of millions of Russians living in urban areas are struggling with a lack of basic utilities - 1 in 5 city dwellings have no hot water, and 1 in 10 no indoor sanitation. More than 70 percent of the country's utilities network is worn out.
A comprehensive report by the Russian Union of Engineers (RUE) studied the 164 biggest cities in the country, and came to the conclusion that while new amenities are being introduced, old ones are not being replaced sufficiently quickly. The information was published on the same date as a separate report from the Emergencies Ministry, saying 60 percent of Russians are living at high personal risk, largely due to man-made factors.Poor housing utilities top the list of Russians' concerns, ahead of inflation, low living standards and corruption, according to a national survey conducted last month, showing that 58 percent of all citizens were worried about the problem.The RUE findings showed that nearly a fifth of homes in cities have no hot water, and 12 percent no central heating – a necessity through Russia's harsh winters. Nonetheless, the figures are still better than those from five years ago – albeit by no more than 2 percent.Urban areas still have better amenities than the country as a whole. Russia's Federal Statistics Service reported last year that more than a third of all Russians have no hot water and more than a fifth have no running water at all in their homes. The same study showed that less than 1 percent of all water flowing out of Russian taps and faucets complies with international safety standards.Less than a fifth of the country's housing has been built since the collapse of the USSR, meaning the vast majority of Russians live in mostly poorly-constructed Soviet-era accommodation.
Around $100 billion dollars are spent on utilities management by Russians yearly, with a half and half split between government funding, and private payments to utilities companies. The government's top utilities adviser Andrey Chibis said last month that the country needs an extra investment of more than 500 billion rubles ($16,6 billion) a year for the foreseeable future, in order to repair aged facilities.The money is unlikely to come from private citizens. In the five years between 2007, when a program of privatization of public utilities began, and 2011, the last year for which there is complete data, tariffs for water, electricity and communal services increased by 30 percent in real terms. Only 1 in 10 Russians is happy with their utilities provider, according to a survey by insurer RGS conducted last year.The onus is likely to be on the Russian budget. But the projected spending plans for the next three years already put the state in the red, with proportionate spending on municipal facilities falling, as more and more money gets diverted to the defense budget.And even if allocated, there are doubts the funds will be spent efficiently. Berlin-based NGO Transparency International ranks Russia 133rd out of 174 countries in its fight against corruption, just below Nicaragua and Uganda.Russia is also committed to significant spending on several high-profile events in the coming years. The Sochi Olympics next year, with a projected bill already exceeding $50 billion, are the most expensive in history. Russia will also host the football World Cup in 13 different cities in 2018.
You can share this story on social media: