Russia builds up nuclear fleet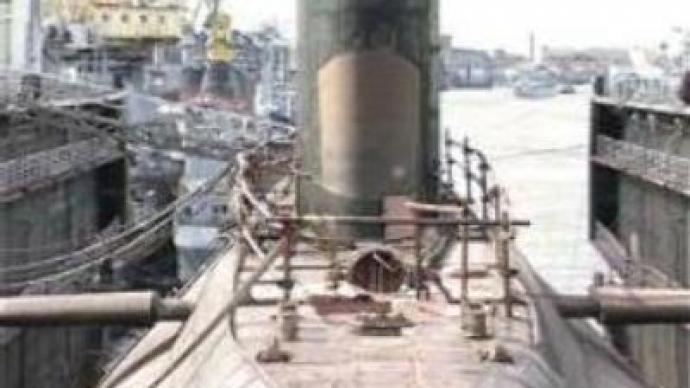 Russia has unveiled the latest addition to its nuclear fleet with the launch of a brand new atomic submarine the Yury Dolgoruky. This new strategic nuclear sub will play a key role in boosting Russia's deterrence.
This new strategic nuclear submarine will play a key role in boosting Russia's deterrence. Over 100 journalists covered the event which the first Deputy Prime Minister, Sergey Ivanov, called a key benchmark for Russia's fleet and industry.
"This is an emotional moment. For the first time in the past 17 yeas we have launched a strategic submarine. As a matter of fact this is the first Russian strategic nuclear submarine. And to top it all it's of a new generation. Preceding the launch of this particular submarine and the whole series it belongs to, there was a long period of hard work undertaken by many specialists. And I extend my gratitude to all of them,"
he said.This is the first vessel of the new "Borey" class which is expected to become workhorse of Russia's nuclear fleet. It's designed to carry up to 20 ballistic missiles that could be launched from both surface and submerged position. But before this arsenal plunges into the ocean the sub is to be tested and equipped.In a nearby workshop there's another ceremony. In 4 years it is going to produce the world's first floating nuclear power plant. Russia plans to build ten such facilities to provide electricity to remote regions.Russia's new found fascination of its nuclear technologies has prompted criticism from environmentalists.
"This submarine is a floating Chernobyl. And we think statistics prove our point. We know of at least one hundred accidents that occurred on nuclear ice-breakers and atomic submarines though this information is kept secret and the real number of cases could be more. Not a year has passed without a leak or the melting of working parts of reactors. And we can't say that the number of such accidents is decreasing,"
claims Vladimir Chuprov, Greenpeace energy expert.But the head of Russian Atomic Energy Agency, Sergey Kirienko, dismissed these concerns.
"The Kursk submarine tragedy is perhaps the most dramatic example showing the safety of a nuclear submarine power-generating unit. You can't imagine a more horrible situation. A tremendous explosion destroyed the hull causing terrible water pressure, disrupting the electricity supply, and killed the crew – so that no one was left to deal with the power-supply unit. However, the reactor stopped on its own, without any radiation leakage. And after the Kursk was dragged to the surface, specialists who inspected the reactor concluded that it was still fully operable after the explosion,"
he stated. It will take two or three years before Yury Dolgoruky takes on its first assignment in the Northern seas. But Sunday's ceremony has strategic relevance – that is to show that Russia has re-emerged from the dark waters of 1990s and is once again a power to be reckoned with.
You can share this story on social media: