Let's talk about sex: Poll claims Russians enjoy sex more now than 10 years ago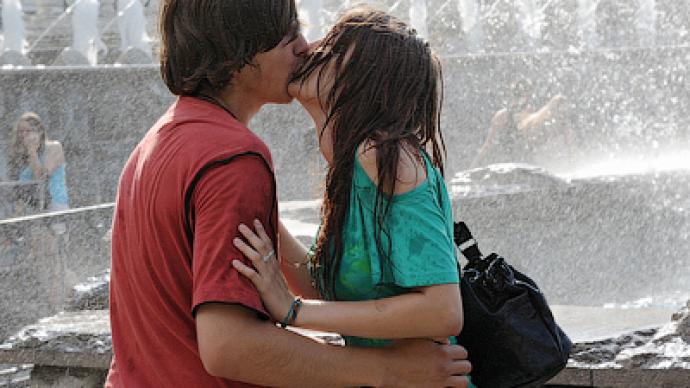 The 1990s, apparently, didn't do much to set the mood, with only 6 per cent of the country's population happy with what they had. But it seems Russians have rediscovered their mojo and got their groove back.
"There's no sex in the USSR" is a famous one-liner coined during televised discussions between the people of the United States and the Soviet Union in the 1980s. The full quote goes on to say "there is love" – but decades on, nobody remembers that and the phrase became symbolic of Soviet austerity.After the collapse of the USSR, things started to look up. But the social and economic turmoil of the turbulent early 90s left many Russians feeling unprotected and unsatisfied. As times changed, however, the ever-rising price of oil poured on troubled waters and people rediscovered their love of making love.Today, the opinion poll claims, 18 per cent of Russians say their sex life makes them blissfully happy, and over 40 per cent are "very satisfied."Sadly, according to the poll, 4 per cent of people are unhappy with their sex life and for a whopping 12 per cent sex causes no emotional reaction.  And setting aside the burning desire to find out exactly what no emotional reaction to sex looks like, this poses some problems. Not only with the wording of the poll, or it's vague and bizarre nature, but with the fact that this survey appear to make modern Russia seem as if it's in a state of post-coital bliss when, in reality, demographics are at an all-time low, and every kind of stimulant thrown at the people has not done much to boost population numbers. "Russia is caught in the grip of a devastating and highly anomalous peacetime population crisis," writes Nicholas Eberstadt, an adviser at the National Bureau of Asian Research, a Washington think tank. Devastating: very. Estimates say the population of the world's largest country could drop to 75 million people by 2050. That's a 50 per cent decline in less than 40 years. A rediscovered fondness for fondling does not compensate for alcoholism, heart disease and HIV, just some of the factors resulting in a decreasing life expectancy among men.The Human Mortality Database puts life expectancy at birth in Russia lower in 2009 than it was in 1961 – an otherwise unheard-of trend in a developed country.Part of Vladimir Putin's election campaign was focused on this very problem. He promised free kindergarten places, cheaper housing, and vowed to combat drug and alcohol abuse. He also pledged a US $221 a month benefit bonus to mothers who have a third child. But most experts fear none of these will do the trick, and the only way for Russia to get re-populated is through a massive influx of immigrants.
You can share this story on social media: