Russian court grants bail to 9 foreign Greenpeace activists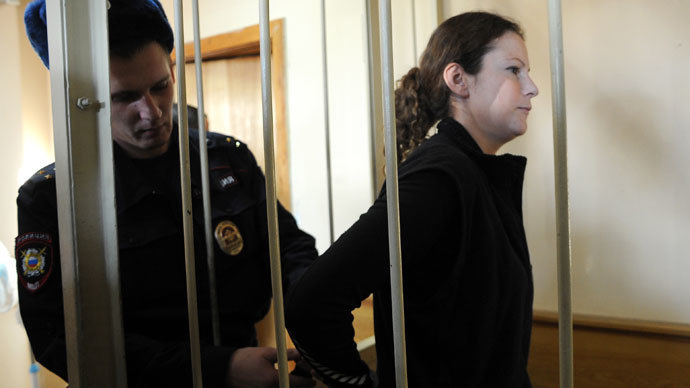 Nine foreign Greenpeace activists were granted bail by Russian court in the city of St. Petersburg. A total of 12 out of 30 crewmembers detained over the protest at an oil rig in the Barents Sea have had bail approved.
They all are to be released while awaiting trial as soon as Greenpeace makes bail for them.
The court in St. Petersburg on Tuesday set bail at 2 million rubles ($61,500) for each of them. Greenpeace said it would transfer the money as soon as possible. 
Greenpeace activists granted bail:


1.  Ana Paula Alminhana Maciel (BRA)

2.  Miguel Hernan Perez Orsi (ARG)

3.  David John Haussmann (NZ)

4.  Tomasz Dziemianczuk (PL)

5.  Camila Speziale (ARG)

6.  Cristian D'Alessandro (ITA)

7.  Paul Ruzycki (CAN)

8.  Sini Saarela (FI)


9.  Francesco Pisanu (FRA)


10. Yekaterina Zaspa (RUS)

11. Denis Sinyakov (RUS)

12. Andrey Allakhverdov (RUS)

"We still have no idea what conditions our friends will endure when they are released from jail, whether they will be held under house arrest or even allowed outside," Greenpeace International Executive Director Kumi Naidoo, said reacting on news stressing that they were still "charged and could spend years behind bars if they are convicted." 

On Monday another St. Petersburg court granted bail to three Russians who were aboard the ship: a doctor, Ekaterina Zaspa, freelance photographer Denis Sinyakov and Greenpeace Russia press office chief Andrey Allakhverdov.
 
Greenpeace said Tuesday that it has prepared 6 million rubles (US$184,500) in bail for the three Russian crewmembers. A wire transfer of the money is required within two working days.

A separate court in St Petersburg also on Monday refused to free Australian activist Colin Russell.

"Colin was refused bail and sent back to prison for three months. The Arctic 30 will not be free until every last one of them is back home with their families," Naidoo said.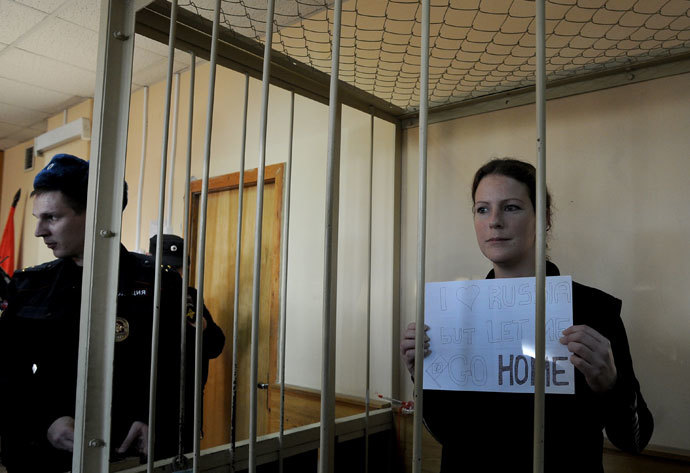 The 28 activists and two reporters from 18 different countries were arrested on September 19 following their protest at Gazprom's Prirazlomnaya oil platform in the Barents Sea a day earlier.

They were first charged with piracy, which carries a possible jail sentence of 15 years. However, Russia's Investigative Committee reduced the charges to hooliganism. The hooliganism charge carries a maximum penalty of seven years. 
At 21, Camila is the youngest member of the #Arctic30. She was excited and nervous about being so far from home http://t.co/d7BbMnsEY7

— Arctic Sunrise (@gp_sunrise) November 19, 2013

However, the environmental organization insists its activists are innocent of either charge. As one of the arguments against the piracy charges, Greenpeace said the Arctic Sunrise ship did not breach the 500-meter zone around the platform, adding that this could be proved by satellite data.

At the same time Russian prosecutors say Greenpeace activists "posed a real threat" to employees when they attempted to scale Gazprom's Prirazlomnaya oil platform.

Meanwhile, the presidential adviser on human rights, Mikhail Fedotov, said on Tuesday that a two-month-long dispute over the Greenpeace activists could be solved diplomatically and "there is no juridical solution."

"I think, this conflict should be settled on diplomatic level, there is no juridical solution," Mikhail Fedotov, the head of the Human Rights Committee (HRC), said. "They did not seize anything. There was no hooliganism. There is nothing here," he said. 
The HRC chief said he will send a letter of appreciation to general prosecution for not insisting on an extension of the detention of the Greenpeace activists.