Russia & Kazakhstan to set up joint gas venture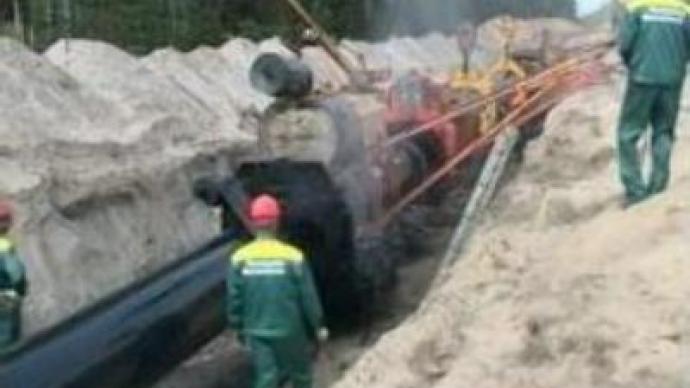 Russia and Kazakhstan have signed a series of agreements to set up a joint venture to process Kazakh natural gas in Russia. The statement came after a meeting between Russian top officials and the Kazakh prime minister.
For the Kazakh prime minister, it was the first trip to Moscow in his new capacity – and this debut seems to be fruitful.
"Kazakh and Russian specialists worked for a long time and did everything to meet the mutual interests in this well-known, important and large project. The joint venture project has a great potential. In fact, Russia could have done it alone but it would have cost us more,"
said Russian President Vladimir Putin. Initially, Kazakhstan will supply about 5 BLN cubic meters per year, with the possibility of further increase. While the details of the agreement have not been released, the two sides were keen to stress its mutual profitability.
While officials praised the agreement as a breakthrough, some analysts played down its significance. To start operations, the agreement still has to be ratified by the Kazakh parliament, which seems unlikely this year.
"The Kazakhs want their gas to be exported through the Russian territory into Europe. And Gazprom, which is by Russian laws, the monopoly exporter of natural gas, is reluctant to allow anyone on the same market – just to prevent competition,"
believes Mikhail Krutikhin from the Russian Energy Weekly. Kazakhstan sits on large reserves of oil and gas, which make it a dream partner for many countries. Russia, China and the United States -are all competing for access to Kazakh riches. Russia scored a major victory earlier this month by locking a deal with Kazakhstan and Turkmenistan to deliver Central Asian gas to Europe through Russian territory. Still, Kazakhstan has been very good at playing on the interests of different world powers. It has not given a definite no to anybody, but neither is it willing to entrust its energy riches to a single partner, even if this partner is Russia.
You can share this story on social media: