Russia & Greece to strengthen ties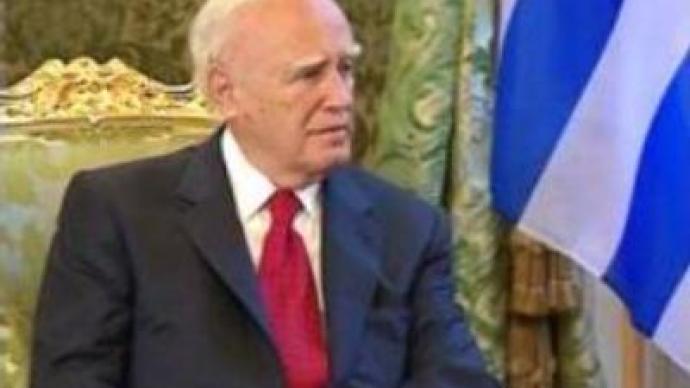 Greek President Karolos Papoulias has discussed bilateral relations, as well as military, technical and energy co-operation with his Russian counterpart in Moscow.
Their talks were described as good natured and helped strengthen ties between the two countries.Karolos Papoulias began his visit to Russia by unveiling a monument to the Greek monks and gaining a blessing from the Patriarch Alexy II.Orthodox faith is not the only thing Russia and Greece have in common. At a meeting in the Kremlin, Russia's President Vladimir Putin noted their co-operation spans far beyond spiritual bond.
"Relations between our countries are developing dynamically. This applies to economic and humanitarian spheres. Despite the fact that Greece is a member of NATO, we have old ties in this very sensitive area of military co-operation,"
said Mr Putin.What has been fuelling these cordial ties is oil and gas. Greece is heavily dependent on Russia for its energy supplies, but unlike other European countries, it doesn't seem to be concerned. On the contrary, it wants to strengthen its energy ties with Russia.
"There are no outstanding problems between our countries. But there is political will on both sides to deepen this relationship,"
noted Karolos Papoulias.One step in this direction is an agreement to build an oil pipeline to deliver Russian crude oil to the Mediterranean, bypassing Istanbul and its congested straits. The new route will allow Russian tankers unload in the Bulgarian port of Burgus. From there, the pipeline will deliver oil to the Greek city of Alexandropoulos on the Aegean coast.
"Our pairing has good prospects. It can help ensuring energy security in Europe,"
added Russian President Vladimir Putin.Apart from oil, Greece is also seeking to extend its gas contract with Russia up until 2040.
You can share this story on social media: