Russia and Armenia co-operate to defend air space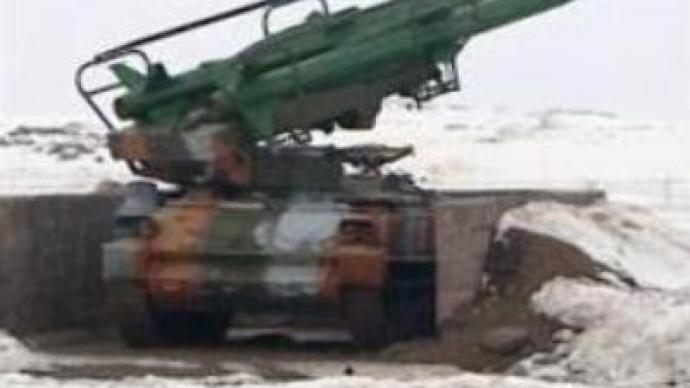 A new air defence system for the Caucasus is to be unveiled at a meeting of CIS military officials, which starts on Wednesday in the Armenian capital Yerevan. It brings together the air defences of both Armenia and Russia.
The other two will be located in Central Europe and Central Asia. Russia's military bases in Armenia are mostly made up of Russian conscripts and professional Armenian officers As Ashot Karapetyan, the deputy commander of military base 102, says,
"The major aim of this military base is to keep the necessary balance and to prevent our historical enemy Turkey from invading. At the same time it is in Russia's interests to keep its presence here – if the troops go away, the actual southern border of the country will be drawn in the North Caucasus."
The most powerful Russian weapon in Armenia, the S-300 interceptor missile, is based on the very border of Armenia and Turkey. Many consider it better than foreign equivalents. The S-300 works almost everywhere: in the mountains, in the desert, in the valley, enduring strong wind, rain or snow and temperature amplitude from +50 to -50 degrees Centigrade.Along with the S-300 the sky is covered by another surface-to-air missile – the so-called "Cube", usually exported under the name of "Quadrat".Although there haven't been any recent violations of Armenian air space, the Russian missiles are in a state of constant alertness. Besides, in case of attack from the air, the intruders will also be opposed by Russian MIG-29 fighters. The radar stations monitor the situation all the time. If they reveal any threat to Russia's air space, they give commands to the planes which take off within 6 minutes. The officers say the military threat from abroad is not as hypothetical as it may seem.
"The base is located only 14 km away from the Turkish border. Here, at the Ararat Mountain NATO has its two military bases which monitor us all the time. Several years ago our pilots countered a possible attack. The target was identified quickly and our fighter made the intruding plane change its course and fly back without crossing the borders of Armenia,"
Yury Kosenko, the commander of the aviation base.Therefore, Russian troops do not plan to withdraw. On the contrary: Moscow wants to strengthen its positions in the region.
You can share this story on social media: