Russia to aid transport of Syrian chemical weapons, will not assist in destruction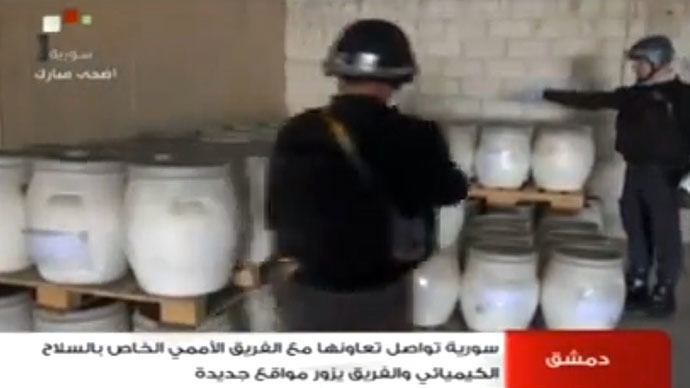 Russia's peacekeeping contingents will not participate in the elimination of Syria's chemical weapons, though Moscow will provide vehicles and other equipment to transport the arsenal.
"The peacekeeping contingents issue is out of the question," Russian Deputy Foreign Minister Gennady Gatilov told RIA Novosti news agency, when asked whether Russia will send peacekeepers to provide security in transporting the chemical weapons to the place of destruction.
"At this stage, we would confine ourselves to providing logistical support. There is a certain division among members of the international community: some provide logistics, other - transportation, the third carry out liquidation of chemical weapons arsenal," he said.
Russia will provide material and technical support, and will help transport the chemical weapons to Latakia port in Syria.
"It will then be loaded on a ship and moved to the place of destruction," Gatilov clarified.
He has estimated that the disarmament process will require donations of approximately US$140-150 million.
Russia is prepared to make a financial contribution and provide transport and equipment for the operation.
All necessary equipment should be delivered to Syria very soon, Gatilov added.
The US will destroy the Syrian chemical arsenal onboard an American ship in international waters. According to the Pentagon, the process of neutralizing 500 tons of chemical components used to make mustard gas and sarin could take 45 to 90 days.
The Syrian government agreed to destroy its chemical stockpile following the Ghouta attack, near Aleppo. President Bashar Assad's regime also acceded to the Chemical Weapons Convention. An international disarmament team has been tasked with dismantling Assad's estimated 1,000-ton chemical weapons arsenal.
Gatilov has also responded to the UN's latest report, in which it stated that chemical weapons had been used in the ongoing conflict between the parties in the Syrian Arab Republic.
The mission's limited mandate, however, rules out any conclusions about who actually used the weapons.
"The report makes no certain conclusions. The mission's findings do not clearly indicate that the chemical weapons were used by the government," Gatilov said. "The report's content does not lead to a conclusion that the Syrian government was solely responsible [for the attacks]."