Smoke and fire on Kiev's Independence Square (AERIAL VIDEO)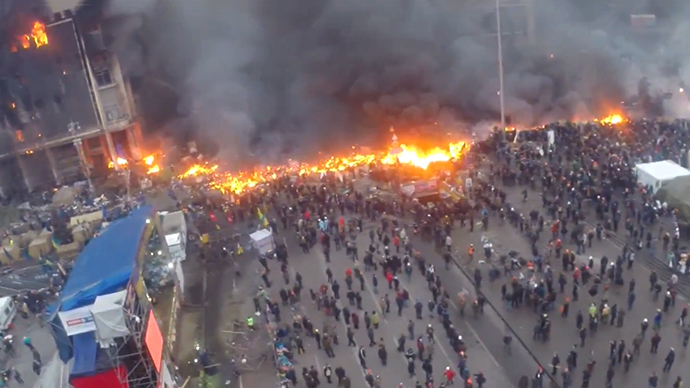 Black smoke, houses ablaze, and thousands of protesters in Kiev's central square have been caught on tape by an aerial drone amid ongoing violent anti-government riots in Ukraine, which have claimed over 25 lives.
The drone footage by the Ruptly international news agency gives a bird's eye view of the protest camp on Independence Square in the Ukrainian capital – the main site of the bloody confrontation between the government and the opposition.
The Trade Union House, which had been used as the main base by protest organizers, is seen burning with a raging fire ripping through the many-storeyed building. The square itself is also on fire as protesters burn tires, sending massive clouds of black smoke billowing above the area.
Ukraine has been gripped by mass opposition demonstrations since November 21, when President Viktor Yanukovich refused to sign an association agreement with the EU. On Tuesday, after three weeks of relative calm, brutal clashes between radical opposition groups and law enforcers broke out again.
The latest outbreak of violence has resulted in the deaths of at least 26 people, including 10 law enforcers. Hundreds have been injured.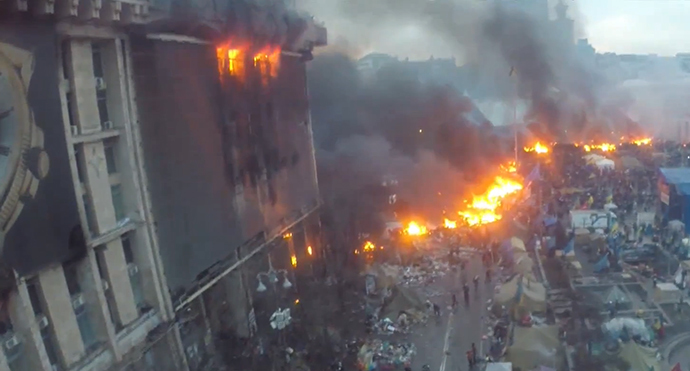 You can share this story on social media: