RT aims to revolutionize how the world reports news with own video agency
Published time: 3 Apr, 2013 18:50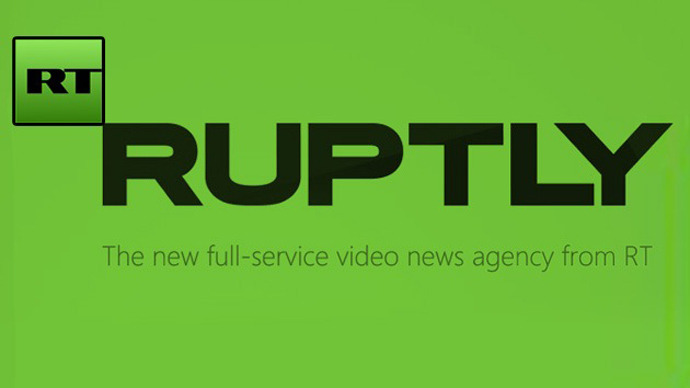 RT is presenting Ruptly, its own video news agency – with a difference. Not just offering live HD news streams and footage from around the globe, Ruptly will give the world's media access to stories and views mainstream news providers ignore.
"Right now there are basically a couple of big agencies that provide the majority of news footage to international outlets, and particularly to TV channels and online platforms that cannot afford bureaus or send correspondents to every hotspot.  As a result, viewers often see events around the globe through the eyes of these providers. In such a market there are inevitable gaps in coverage, plus the risk of bias in the eventual reportage," says Margarita Simonyan, RT's editor-in-chief.
"Now Ruptly can provide an alternative, show a different side of a story, or a story altogether missed by other sources.  We offer a bolder, deeper perspective than the one brought to the table by the 'usual suspects'."
The origins of the ambitious project – which launches after operating in test mode throughout winter - was the coverage of the South Ossetian conflict, involving Russia and Georgia, in 2008.
"What we saw in the global media was a much skewed coverage of the conflict, largely biased toward Georgia's position, dismissing Russia's and ignoring the atrocities committed by the Georgian side, which had in fact initiated the war. There were plenty of videos from Gori and Tbilisi but nothing showing Georgia's attacks on civilians in Tskhinval, nor any coverage of the plight of Ossetian refugees," says Simonyan.
"We had video reportage from Tskhinval, and decided to make it available to other news outlets so that they could see – and show – the other side of this war."
RUPTLY works extensively with the international stringer network and leverages RT's global presence that counts outposts in Washington DC, London, Madrid, Damascus, Cairo, Gaza and Baghdad among its 22 bureaus.
One hundred staff have already joined Ruptly's state-of-the-art, purpose built headquarters in Berlin – a growing news hub conveniently placed for stories from either side of the globe.
Unburdened with the legacy platforms of other news agencies, Ruptly will be using the Streamworks International delivery system – the most advanced in the world – to broadcast HD signal to any media, from giant billboards, to news stations, to mobile phones. Ruptly can provide five simultaneous live signals. For comparison, Associated Press, the world's biggest news agency, only has one live channel.
Ruptly videos will be available both for single use and as a full subscription.
"It will take a few years for the revenues from the sales of video materials to cover the costs of running the new agency but the ultimate goal for Ruptly, as it has been for RT, is to provide balance in the global media coverage of the world news, and offer an alternative in a highly concentrated market of professional video footage," says Margarita Simonyan.