New RT.com: More news, more views, less clutter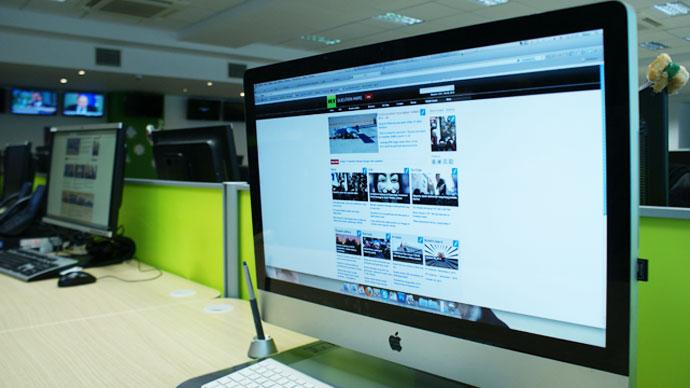 It's fresh, innovative, and sharp. It focuses on substance while minimizing distractions. As RT switches to a new studio with HD broadcasting, there's no better time than now to introduce New RT.COM.
Our designers had you – our valued reader – in mind when they developed our new website, giving you bigger pictures and videos than ever before.  We've made it easier than ever to focus on interesting stories and world events, without getting lost in a sea of information.
We hope you'll find that our cleaner, simpler look focuses on what matters most – today's top stories from around the world. We've taken responsive design to another level, aiming to make content as accessible as possible.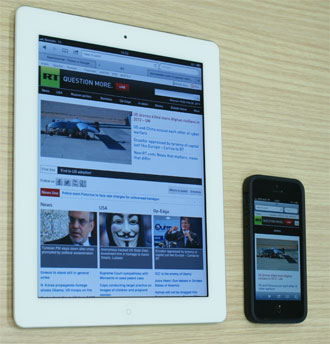 We trust you'll read New RT.com on the go, as our optimized news delivery platform gives you the fully-fledged experience on any internet-capable device, without the limited feel of mobile versions. Our new website re-arranges and re-shapes for your PC, tablet and smartphone, enhancing RT news accessibility by automatically adapting to your screen size.
But we didn't stop there. We've increased our emphasis on hard news – sacrificing our Sport and Art & Culture sections to focus on even more top international stories. Take a stroll around our page and you'll discover some exciting new areas.
One of these is Op-Edge – a platform for those unafraid to voice their opinions and question what are considered to be established truths. This section will house RT's interview and opinion pieces. Our Bulletin Board area will feature podcasts of our main newscasts, including RT America and Prime Time Russia.
Although RT's previous apps for Android, iPhone, and Windows phones are currently unavailable, our team is working to develop new breakthrough applications to keep in pace with our new website. Stay tuned for the unveiling of our new user-friendly tools.

As with anything new, we expect to experience a few speed bumps along the way. So please, if you come across anything out of the ordinary or you just want to tell us your thoughts on our new makeover, contact us at feedback@rttv.ru. Your opinion matters to us as we aim to be the best we can possibly be.

You can share this story on social media: