Up close & personal: RT reporters featured in new documentary
Published time: 9 Apr, 2014 11:08
Edited time: 9 Apr, 2014 11:47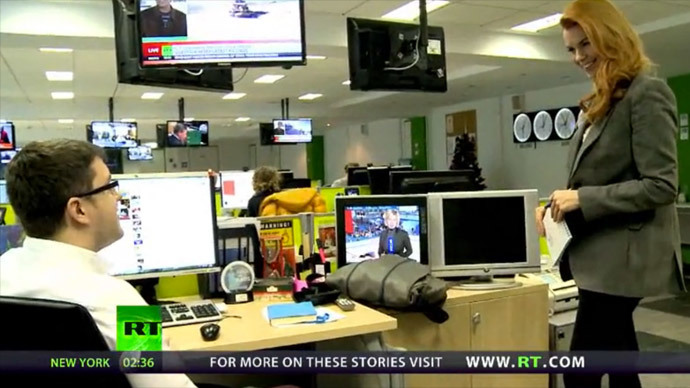 From dodging bullets in Kiev to witnessing atrocities in Syria - seven RT correspondents feature in 'News Team' a documentary series, directed by Josh Silberman, whose previous work includes hits such as 'Deadliest Catch' and 'Dancing with the Stars'.
He's filmed the lives of fishermen working in some of the most inhospitable waters on the planet and watched contestants overcome their deepest fears. Now Silberman is set to see months of hard work come alive with the premier of 'News Team', which he says is "one of the finest shows I've ever been a part of."
News Team is a 20-part series which follows the lives of seven RT reporters as they travel the globe bringing the latest stories to our screens. Becoming a reporter is a dream that many aspire to, however Silberman tries to show the reality of what is a difficult, time-consuming and at times dangerous occupation.
"I don't think it's a TV show about TV. I think it's a TV show about people. People that risk their lives to tell the world about what's happening outside of their living rooms," he said.
It was curiosity more than anything that led Silberman to want to produce a documentary series about news reporting and he stated he chose to work with RT due to the team's ability to think differently as well as the access they are allowed because of their "political and geographical standing," while he was quick to add how none of his preconceptions about the difficulty of working in Russia were, in fact, true.
"I thought I would run into a bureaucratic nightmare working with a Russian-based news agency. However, it was the opposite. RT let me tell the story that actually happened and never baulked at any of the footage, story or situations that were aired," Silberman added.
The American has managed to fit a lot into his short, but productive career. He has gained a reputation for producing some of the most inhospitable places on the planet in order to give viewers an insight into people's professions and News Team has proved no different.
"I've worked a lot chronicling people's enduring, extreme and sometimes crazy professions on numerous shows like Ice Road Truckers, Flying Wild Alaska, Mall Cops and Deadliest Catch," said the 33-year-old. "I think 'news correspondents' was the next logical step for a TV series because it doesn't get any more real, unpredictable or exciting than the news, especially in a warzone."
The seven reporters - Maria Finoshina, Margaret Howell, Thabang Motsei, Peter Oliver, Egor Piskunov, Paula Slier and Aleksey Yaroshevsky - are followed around the clock to wherever the latest breaking stories take them. The viewer gets to experience what it's like to report in a war zone and how a correspondent deals with some of the less glamorous aspects of the job, such as sorting through hours of footage to produce a report of just a couple of minutes. However, what interested Silberman, who was named the 2011 Producer of the Year by the Producers' Guild of America (PGA), was how the characters developed during the series.
"It was surprising to see how each journalist came to view and cover their stories differently, not just in regards to politics, but in terms of allowing their personality and background to factor into their reports," the Milwaukee native commented. "These weren't a bunch of RT robots on the ground, but different people from different walks of life, telling stories sanctioned by RT, but with their own personal approach."
It is a step into the unknown for both RT and for Silberman, and he believes that the viewers will build an instant rapport with the seven featured reporters.
"I think viewers will connect with the characters. It's not about what they are saying, but how it's being said. It's their honesty, dedication and passion honesty to telling the story is so real and transcends politics."