'Cannot live with violence that shames Brazil,' president says as protesters block intl airport
Although Brazilian President Dilma Rousseff pledged to hold dialogue with protesters, there were no signs that the demonstrators, most of whom are students and the middle class, are going to calm down.
New demonstrations broke out on Friday, including one that blocked most passengers from entering or leaving the country's busiest international airport, outside Sao Paulo, for several hours.
Rousseff, a former guerrilla who once protested against military rule during the 1960s, has pledged to listen to the protesters' demands.
After her televised address, the hashtag #calabocadilma - "Shut up, Dilma" – appeared on Twitter, with comments slamming her government.
She said it was her "obligation to listen to the voice of the streets, as well as dialogue with all segments" of society peacefully protesting. 
Unlike other protest movements, such as the Arab Spring, Brazil's demonstrators are not targeting individual politicians, and Brazil's president remains relatively popular.
"We cannot live with this violence that shames Brazil," Rousseff said in a pre-recorded address broadcast on Friday night. "All institutions and public security forces should prevent, within the limits of the law, every form of violence and vandalism."

But she promised the nation that her administration would create a national plan for public transportation in cities and to allocate natural resource revenues for education. She also pledged to reform the public health system by attracting doctors from abroad, and has agreed to meet demonstrations' leaders to discuss the issues. In her address, delivered from the presidential palace, she guaranteed improvements to public services and vowed to fight official corruption.

"I want institutions that are more transparent, more resistant to wrongdoing," Rousseff said of Brazil's notoriously corrupt political and business spheres. "It's citizenship and not economic power that must be heard first."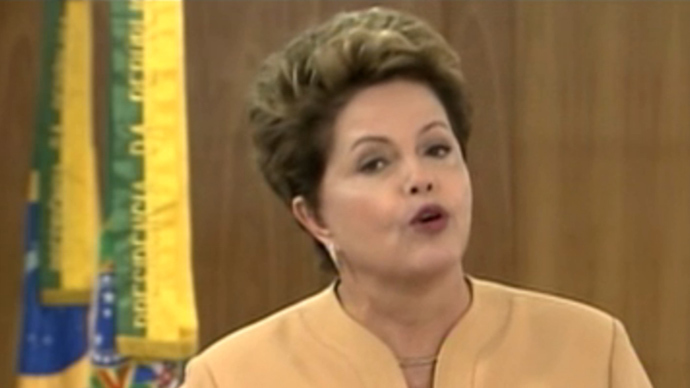 She also asserted the strength of a democratic voice in Brazilian society by indirectly referring to the pseudo-fascist military dictatorship that ruled the country until 1985. 


"Many were persecuted, tortured and many died for this. The voice of the street must be heard and respected and it can't be confused with the noise and truculence of some troublemakers."

She continued that, "The protesters have the right and freedom to question and criticise everything, to propose and demand changes, to defend their ideas and proposals with passion, but must do so in a peaceful and orderly way."

Friday's presidential remarks came after an emergency meeting with ministers earlier in the day. Discussions with the sports minister, justice minister and planning minister lasted for two hours.

The meeting was called after more than a million people stormed the streets of 100 of Brazil's cities and towns on Thursday, making it the biggest protests in the country in 20 years. The protests continued Friday.

Protesters' main complaints include bad public transport and healthcare, corruption, and the billions of dollars that the government is spending to host next year's World Cup while much of the country lives in poverty.