'Wound that must be removed'? Israel lashes out at alleged Rouhani remarks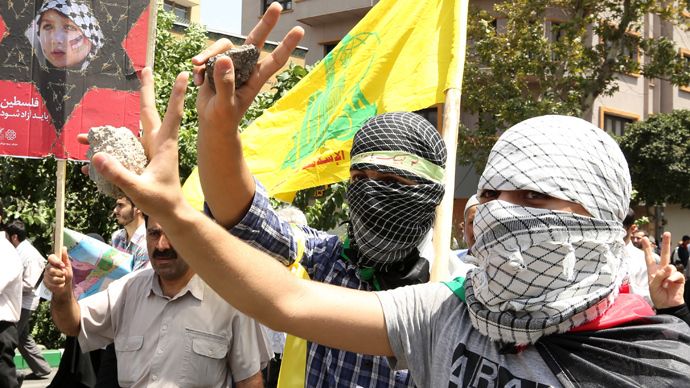 Israel's PM has slammed Iran's presidential elect, Hassan Rouhani, after reports emerged that he called Israel a "wound that must be removed." Iranian state news contradicted the reports and said international press had distorted Rouhani's words.
Hassan Rouhani, who has been hailed as a "moderate reformer" will assume the Iranian presidency on Sunday.
"The Zionist regime has been a wound on the body of the Islamic world for years and the wound should be removed," alleged the reports the emerged from the politician's speech at the annual al-Quds Day rally to support Palestinian rights.

Following the reports, the Iranian channel, Press TV, claimed that Rouhani's words had been distorted and said there had been no mention of "removal."
"In our region there's been a wound for years on the body of the Muslim world under the shadow of the occupation of the holy land of Palestine and the beloved al-Quds [Jerusalem]," Press TV quoted the president-elect as saying.

Israeli Prime Minister Benjamin Netanyahu responded to the reports urging the world to "awaken from the illusion that has taken hold on some since the elections in Iran."
"Rohani's true face has been exposed sooner than expected. Even if his comments will quickly be denied – that's what the man thinks and that's the Iranian regime's game plan," said Netanyahu.
However, outgoing President Mahmoud Ahmadinejad also spoke out against Israel, claiming "a devastating storm is on the way that will uproot the basis of Zionism."
Thousands attended al-Quds Day rallies across Iran on Friday to show solidarity with Palestine and its mission for statehood. Demonstrators in Tehran marched the streets, chanting "Death to Israel" and "Death to America." They also condemned the US-brokered initiatives to restart peace talks between Israel and Palestine.
Path of moderation?
Following his convincing victory in the elections, Rouhani pledged to take a "path of moderation" with regard to Tehran's foreign policy. The international community hopes that Rouhani's presidency will herald more transparency over Tehran's nuclear program.
The US and the EU have implemented sanctions on Iran because they believe Tehran is developing the technology to produce nuclear weapons, something that the Iranian government has always fervently denied.
Tehran maintains that its nuclear research is purely for civilian purposes.
The US racked up its sanctions against Tehran this week. The House of Representative passed a bill on Wednesday that would slash the countries oil exports by 1 million barrels a day.
Rouhani, who was the chief nuclear negotiator for Iran between 2003 and 2005, has pledged more transparency in nuclear talks.
"Our nuclear programs are completely transparent," he said following elections in June. "But we are ready to show greater transparency and make clear for the whole world that the steps of the Islamic Republic of Iran are completely within international frameworks."
You can share this story on social media: