Ronaldo pulls Red Devils into final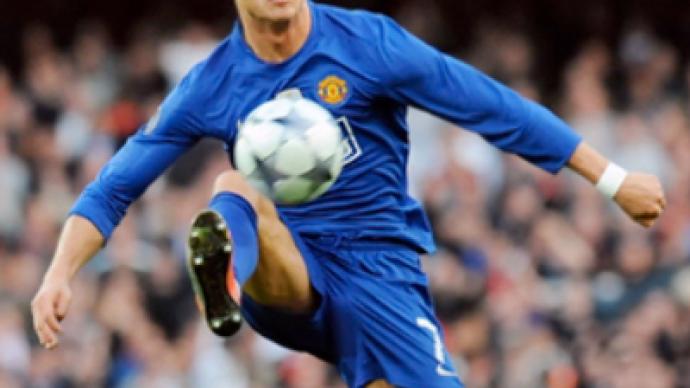 Cristiano Ronaldo's double against Arsenal on Tuesday saw Manchester United become the first team to reach this year's Champions League final.
It ended 3-1 on the night in the second leg of the semi-final at the Emirates, ensuring United progress to 4-1 overall.
It was Ronaldo who was the key. First, the Portugese helped Ji-Sung Park put the Red Devils ahead just eight minutes into the game. Then he netted himself with a free-kick just a couple of minutes later.
He then secured a brace, making it 3-0 after the break, before Robin Van Persie got one back for Arsenal from the penalty spot.
Afterwards Fergie singled out Ronaldo, but the United boss and the players also stressed their ability to play as a team.
"I thought tonight they could never handle him (Ronaldo). I thought that was… it made a difference to us. Yes, we've got a midfield working their socks off, and we had good shape, good defensive positions covered, but we needed someone to give them real problems, and Ronald on that form, well, he's a fantastic player," Sir Alex Ferguson said.
Poor old Arsene Wenger had said before the game he thought his side had the ability to beat United. But he was generous in defeat.
"It's part of football, what happened tonight. Of course, that you don't plan, but we have to stand up to it, and finish the season well, and respond on Sunday against Chelsea. That's all, you can talk all night, you cannot change the mistakes now, and that's the game. and man, United I must say, over the two games deserved to go through, because the game could have been over in the first game," he said.
United will meet either Chelsea or Barcelona in the final in Rome. Those two sides play in the other semi-final tonight at Stamford Bridge.
Midfielder Deco and defender Ricardo Carvalho are injured, while Alex and Micahel Essien should be back fit.
The first leg finished goalless at the Camp Nou. And despite Barca knocking six goals past Real Madrid last weekend, Chelsea think they can stop their frontline again, as well as score themselves.
"We have to play very intelligent against the top team in Europe now. They are top and very hot in Europe, so we have to play very intelligent. The slightest error will be punished. On the other hand, I think you must not play without any emotions because it might then put on a little bit the break on your own performance. If you can combine both, then you have a very good game," Chelsea's helmsman Guus Hiddink said.
You can share this story on social media: