Palestinians slam Romney remarks as 'absolutely unacceptable'
Published time: 18 Sep, 2012 23:31
Edited time: 19 Sep, 2012 15:08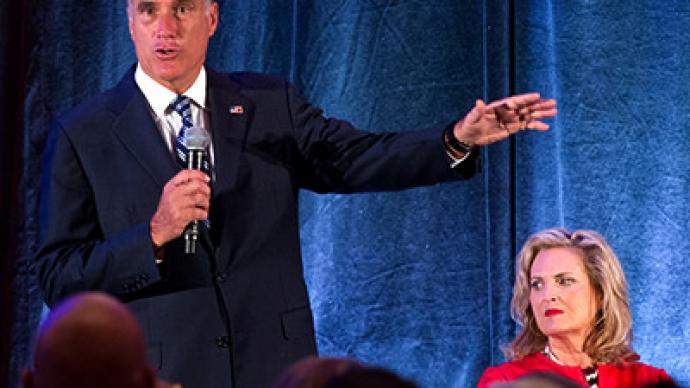 Comments made by Mitt Romney, that the Palestinians do not want peace are "absolutely unacceptable," said chief Palestinian negotiator Saeb Erakat, who added that "only those who want to maintain occupation" would make such a claim.
The reaction follows the release of a secretly-recorded video in which Romney asserted that the Palestinians have "no interest whatsoever in establishing peace, and that the pathway to peace is almost unthinkable to accomplish."
"We consider these statements absolutely unacceptable," Saeb Erakat told AFP.
"No one has an interest in peace more than the Palestinian people, because peace for the Palestinian people and the Palestinian leadership means freedom and independence from the Israeli occupation."
"Only those who want to maintain the Israeli occupation will claim the Palestinians are not interested in peace," Erekat told Reuters.
Palestinian top peace negotiator Saeb Erakat talks to the media. (AFP photo/Khaled Desouki)
The Republican presidential candidate made the remarks at a private fundraiser where he candidly spoke about his political strategy with a crowd of affluent donors in May.
The video was released by US magazine Mother Jones, which a day earlier released a video from the same event where Romney described Obama's supporters as victims and freeloaders, who are not willing to take responsibility for their own lives.
Speaking to wealthy donors at an event in Florida, held at the home of controversial private equity manager, Marc Leder, Romney indicated that he does not believe in the peace process in the Middle East.
"[S]o what you do is, you say, you move things along the best way you can. You hope for some degree of stability, but you recognize that this is going to remain an unsolved problem…and we kick the ball down the field and hope that ultimately, somehow, something will happen and resolve it."
Not making distinction between different factions inside Palestinian society, Romney said: "I look at the Palestinians not wanting to see peace anyway, for political purposes, committed to the destruction and elimination of Israel, and these thorny issues, and I say there's just no way."