Romney ready to attack Assad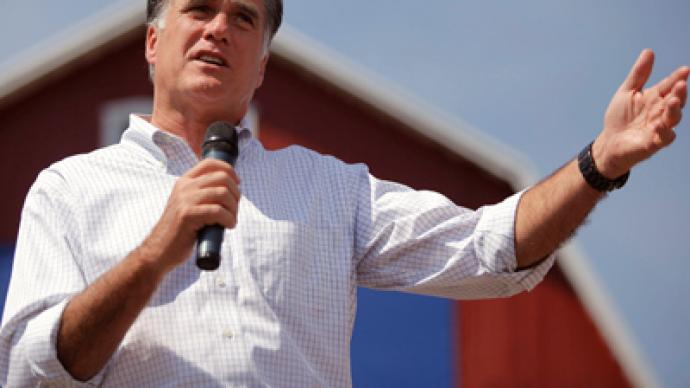 US presidential candidate Mitt Romney is echoing Obama's earlier statements, saying he is ready for a military intervention in Syria if chemical weapons are used by the Assad government.
"I think we have to also be ready to take whatever action is necessary to ensure that we do not have any kind of weapon of mass destruction falling into the hands of terrorists and whether that requires troops, or whether that requires other actions by our friends and allies," Romney said in an interview with CBS News. He added that Saudi Arabia and Turkey are already active in the region.In July, Syria for the first time had confirmed the possession of chemical and biological weapons and said it could use them if foreign countries intervene, but would not deploy them on its own population.  Romney argued that sending troops to Syria is needed to secure the stockpiles of weapons of mass destruction."There's a wide array of potential threats, but clearly the concern would be that some terrorist group – whether Hamas, Hezbollah, Al-Qaeda or others – would receive the capacity to carry out a mass destruction, mass death event, and therefore, America has to be ready whether it's there or anywhere else in the world," Romney said.The former Massachusetts governor has also threatened to attack Iran to prevent the country's gaining nuclear weapons capability. "[Iran needs to] know that a military option is one which we'd be willing to consider if they do not take action to dissuade a course towards nuclearization [sic]."Both foreign policy statements by the republican candidate seem to mimic President Obama's approach. The American leader has consistently stated that a military option on Iran is on the table should sanctions and diplomacy fail with Tehran.As far as the policy for Damascus is concerned, "we have communicated in no uncertain terms with every player in the region that that's a red line for us, and that there would be enormous consequences if we start seeing movement on the chemical weapons front, or the use of chemical weapons," Obama said on Monday.Meanwhile diplomatic efforts are underway to resolve the Syrian conflict.New UN-Arab League envoy Lakhdar Brahimi has met with the top UN officials before replacing Kofi Annan on September 1.UN Secretary-General Ban Ki-moon said that he is "deeply concerned" about the soaring violence in the country and that Brahimi was taking on "a very important, crucial task, to bring peace and stability and the promotion of human rights in Syria," UN spokesman Martin Nesirky told AFP.The new envoy has said that he was "scared" of taking on the new task.Kofi Annan's six-month drive to end the Syrian bloodshed has produced little results.As the body count grows, Brahimi has signaled that he will adopt new tactics, but insists that Annan's six-point plan would still serve as the foundation for any peacemaking in Syria.The five permanent members of the Security Council cannot reach consensus over Syria. Russia and China have blocked three resolutions on the conflict and view the West's approach as regime change measures.The 17-month-old Syrian violence has already claimed more than 20,000 lives.
You can share this story on social media: