Road safety - hot issue in Russia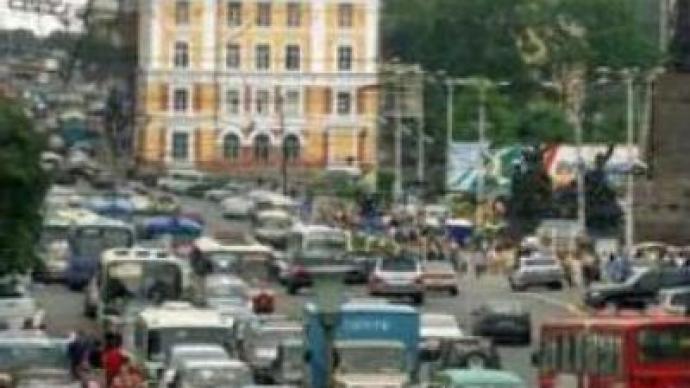 A UN Global Road Safety Week is being marked around the world. In Russia, a government road safety programme was launched last December aiming to significantly reduce the number of lives lost on Russia's streets.
The aim of the UN Global Road Safety Week is to bring the issue of traffic injuries into focus and improve road safety.As for Russia, the issue is a very hot one. Last year, more than 250,000 people were injured in traffic accidents in Russia alone. Cars often ignore pedestrian crossings and sometimes drivers do not react until it is too late. A national programme has been introduced to turn the situation around and keep the streets safe.The scheme was the brainchild of school principal Tatiana Shchipkova, who introduced a road safety class to her pupils five years ago.
"At first we began to work in school,"
Tatiana Shchipkova said.
"Then we involved other schools in Moscow and in Russia. After that I offered the government to set up this programme. Our aim is to form a real cultural personality and highly developed road safety skills in society".
Tatiana's school is a flagship for the programme, offering pupils a dedicated classroom where they learn safety basics, with a variety of tools and props. This is education which lasts for several years and promises some real practical benefits.
"When I try for my driving license, I will go to the road safety office and say to them, you know, I've done this course and I've learned much,"
pupil Sergey Tsivlin said,
"I hope they will say, of course, you know everything, take your license,"
he jokes.But classroom based training is just the start. Outside the school building there is a mini road system, complete with crossroads, cars and even policemen. Whether it's the importance of traffic signs, or just obeying the long arm of the law, the children here are having road safety drummed into them from an early age. They may be learning through play but they know that once they get out on Moscow's streets, it is no game.Such advanced facilities are not available everywhere though, and authorities do their best to share them by organizing colourful road safety competitions between local schools. There are youngsters here taking part from all across Moscow. Whatever the results, teachers have a real challenge to ensure these lessons stick in the minds of their students.Last year more than 1,200 children were killed in traffic accidents in Russia and casualties are continuing to increase in 2007.Authorities are hoping that the road safety scheme will prevent today's pupils becoming tomorrow's statistics.
You can share this story on social media: