Riots calm down in France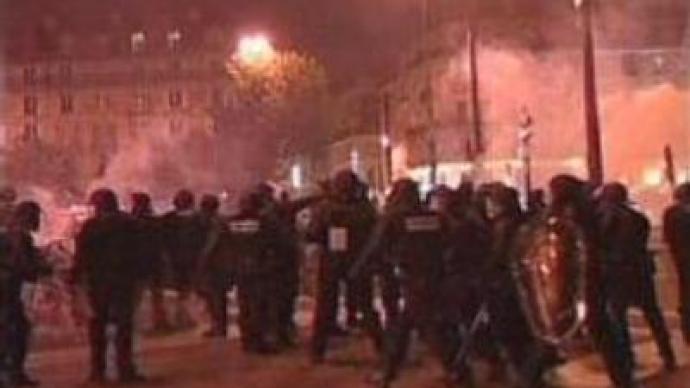 There has been yet more protests in the French capital Paris following Nicolas Sarkozy's election victory. A major police presence remains, but things seem to be calming down.
It was much quieter on Tuesday in Paris than it had been the night before. In Place de la Bastille where protests have been taking place since Sunday, there were just a few hundred protesters, mainly peaceful.The police presence was heavy in the square, both gendarmes and riot police. They were armed with shields and riot gear but they did not need to use them. There was just one man seen who was hit and bleeding.Tuesday night's protests were really peaceful especially as compared to those of Sunday night when Nicolas Sarkozy was announced. About 600 people were arrested across the country and around 700 cars were burnt. On the following night there were around 160 arrests and about 400 cars burnt.People are protesting against the election of Nicolas Sarkozy.
Some are Segolene Royal's supporters, some are just anti-Sarkozy. There are many left wing and anarchist groups among the demonstrators. It seems that most of the protestors are students.They see Nicolas Sarkozy as a hard line figure, they think he is going to impose policies on France which are too tough and cut down their civil liberties. The demonstrators dislike his zero tolerance campaign.It is most likely that police presence will continue to be very high until May 16, when Nicolas Sarkozy takes office.
You can share this story on social media: