Ukrainian nationalists threaten to storm parliament after leader's killing
Over 1,500 nationalists from the Right Sector have circled Ukrainian parliament in Kiev threatening to storm it on Thursday. They demanded the resignation of the interior minister after their leader Muzychko was killed in a police operation.
Up to 2,000 members of the Right Sector, which recently was revamped into a political party, flooded the square in front of Verkhovna Rada in the Ukrainian capital on Thursday night. The radicals, who brought car tires to burn with them, were banging on the Parliament's doors, smashing the glass parts in them.
Wearing masks and brandishing bats, they were shouting "Avakov, get out!"
The parliament building was empty except for guards, some administrative staff and reporters. All the MPs had earlier left the building through an underground tunnel, RIA Novosti reported.
The protesters were threatening to break into the parliament if their demands were not met, journalists reported from the scene. The Rada's security in the meantime concentrated in front of the entrance to the building and prepared water cannons, urging the journalists inside not to approach the windows looking onto Constitution Square.
Several hours into the standoff activists announced the rally was over for tonight as they decided not to storm the building just yet, but reconvene tomorrow.
On Friday, Verkhovna Rada will hold an emergency session to discuss the possibility of Avakov's resignation, one of the representatives of the Right sector told Itar-Tass. Right Sector activists have been urged to gather outside the Parliament building at 9:00 GMT.
Although the major part of the crowd has already dispersed, about a hundred people are still reportedly picketing the building .
Принесли залізяки. Гупають у них pic.twitter.com/0yJC8j8zGb

— Oksana Kovalenko (@superumka) March 27, 2014
Interior Minister Arsen Avakov is held personally responsible by the nationalists for the death of Aleksandr Muzychko, also known as Sashko Bilyi, one of the Right Sector leaders. Muzychko was declared killed in a police raid against his gang in Rovno, western Ukraine, on Tuesday.
Following the death, Right Sector leaders threatened Avakov with revenge, though they did not specify exactly what they would do. Dmitry Yarosh called for the minister's dismissal.
"We'll wait for the negotiators from the Parliament, the MPs, but we won't settle for Avakov's resignation – we want his tribunal," the radicals announced through megaphones.
The radicals also blame the interior minister for not putting enough effort into investigating investigate the deaths of protesters during the Maidan standoff in January and February.
Правый сектор прямо в эту минуту грозятся штурмом Верховной Раде Украины pic.twitter.com/bC5ooAgOBO

— Serge Medyanik (@serge_medyanik) March 27, 2014
The leader of the UDAR party and former boxing champ, Vitaly Klitschko, went out to the negotiate with the Right Sector in front of the Rada.
Klitschko tried to persuade the radicals to give up the idea of storming the parliament building as "it will destabilize the current situation in Ukraine. The parliament building is empty, because the deputies have already left."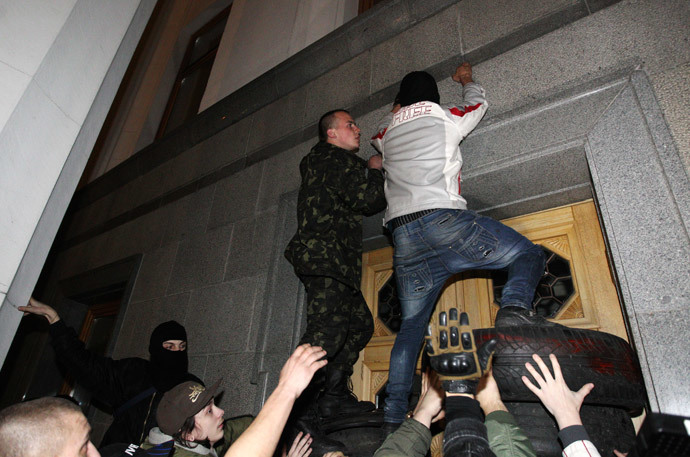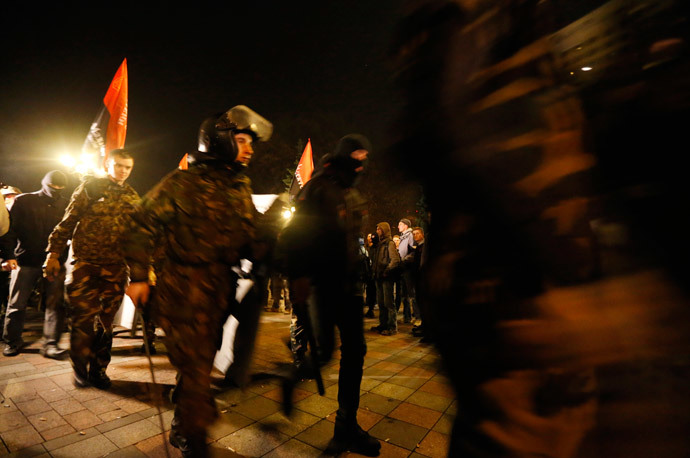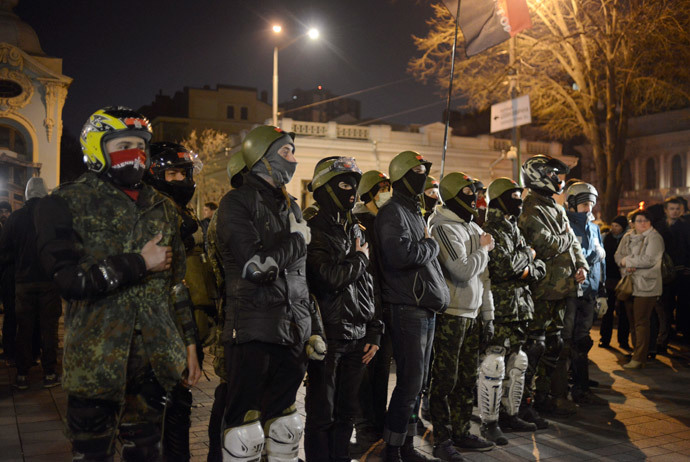 You can share this story on social media: