Ribbons unite Russians in commemoration of Victory Day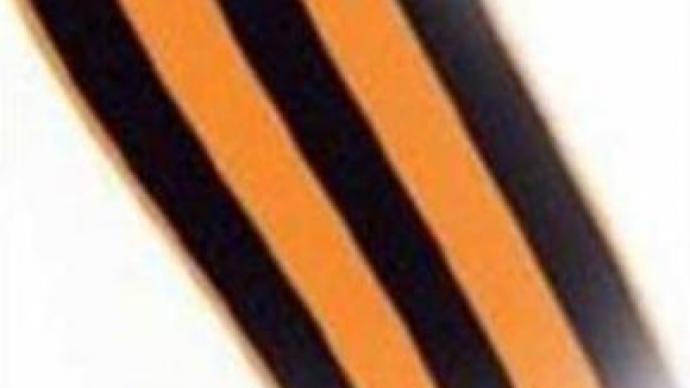 The ribbons of St. George are seen everywhere in Russia these days. "I remember and I am proud" is the name of the campaign, launched by RIA-Novosti news agency and Russian Students' Community.
These days the orange and black ribbons are everywhere on the streets of Moscow and other Russian cities. One can see them attached to ladies' handbags, clothes and cars. And this relatively new tradition is becoming more and more popular.It started two years ago when Russia was celebrating the 60th anniversary of the Victory in the World War II. Organizers managed to distribute some three MLN ribbons in the city of Moscow alone. These days they expect to give away more than 10 MLN of them all over Russia and abroad.
"It started absolutely spontaneously. We could never expect it would progress so fast and gain so much popularity,"
said Vasily Ovchinnikov, Students' Community Leader.The purpose of the campaign is to remind the young people about the Victory, which for most of them is just a page from a history book and to raise patriotism in the country.Hundreds of students went onto Moscow's streets, distributing the tiny pieces of material.
"This campaign is very important for me. I remember the great Victory and those who died for me. I am a patriot,"
says Olga Kasatkina, a volunteer student.The ribbon has united people of different ages and social statuses. Thousands of enterprises and institutions participate in the event, making donations to veterans' hospitals and buying equipment for them. Russia's Orthodox Church also supports the idea and is distributing the ribbons in its branches.
"For us, Orthodox Christians, it is very significant and important,"
says Father Maksim, a Senior Priest of St. Tatiana branch.The ribbon corresponds to a state decoration, founded in the 19th century. It was given to those who heroically fought in battle. Its colours are believed to represent gun powder and fire. Some dispute that, saying the colours are taken from Moscow's coat of arms, where St. George kills a snake. His sword is gold and the snake is black, but whatever the history, the ribbons have truly become a new symbol of Victory Day.
You can share this story on social media: