Reuters hacked: Bogus blog posts claim Syrian rebel exodus (CACHED COPIES)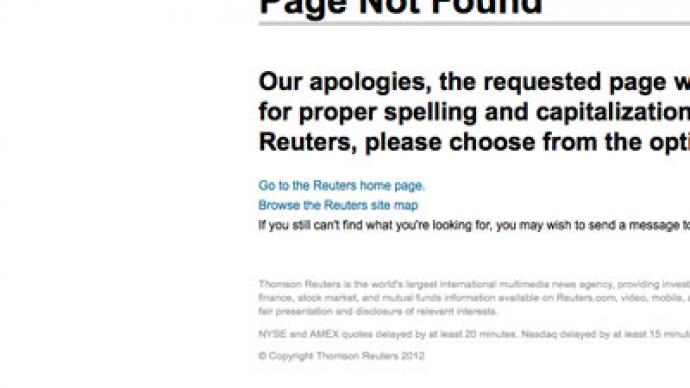 Several Reuters blog posts claimed that the Free Syrian Army was withdrawing from major cities and acquiring chemicals weapons from Libya. The news agency now says the posts were fake, as their blogging platform had been hacked.
The company suspended blogging on Friday, and no new posts have been made since. "Reuters.com was a target of a hack on Friday," Thomson Reuters, the news agency's parent company, said in a statement. "Our blogging platform was compromised and fabricated blog posts were falsely attributed to several Reuters journalists."The bogus posts have now been removed, though their cached versions are still available online.One fake post alleged that Free Syrian Army (FSA) commander Riad al-Asaad told Reuters in a telephone interview that "the Syrian Free Army (sic) will withdraw from all Syrian cities." Al-Asaad purportedly said that the regular army had killed 1,000 rebel soldiers, and that the heavy losses, coupled with internal wrangling "for money and positions," as well as betrayals, were forcing the rebels to leave Aleppo and other major cities, and head to Turkey. There they would "re-coordinate" at secret bases set up "under the supervision of the Turkish government and the Israeli intelligence service." The rebel commander's fake statement also contained allegations that Qatar and Saudi Arabia betrayed the Syrian opposition and "made a secret deal with Damascus" in exchange for "investments" and "privileges" in post-conflict Syria. The phony blog post was said to have been written by Jeffrey Goldfard, who, according to his profile "writes about investment banking and the financial sector."Soon after the posting, the Free Syrian Army came out with a statement, saying the fraudulent report "was fabricated by the regime, as it seems the news agency was hacked."An earlier, also bogus report was purportedly posted by Frederick Kempe, president and CEO of the Atlantic Council, a political think tank. The publication alleged that the rebels had "fallen in key districts of their stronghold" of Salaheddine in Aleppo, and that Syrian forces had destroyed the communications network with Turkey. The post made it clear that government troops were about to root out rebel forces from Aleppo, and stated that "columns of Syrian tanks were seen entering the city." To back that claim, the impostor-blogger embedded a YouTube video, originally posted by "Syria Tube." The video shows military vehicles transporting a large number of tanks, set to the soundtrack of Clint Mansell's ominous Lux Aeterna from Requiem for a Dream.Yet another fraudulent publication stated that the Free Syrian Army was acquiring "Ghaddafi's chemical weapons smuggled into Syria via Turkey." It also alleged that rebels in Aleppo were seen putting on chemical masks, and that it was feared that al-Qaeda may be able to get its hands on the purported Libyan chemical weapons, including sarin and mustard gas. No one has claimed responsibility for the cyberattack. Both supporters and opponents of the Assad regime have engaged in cyber warfare and have been known to target sites opposed to their cause. A pro-Assad group known as the Syrian Electronic Army hacked al-Jazeera's Twitter feed, and said more attacks against "fake revolution" websites were to come.
You can share this story on social media: