Republican Party leads in Armenia polls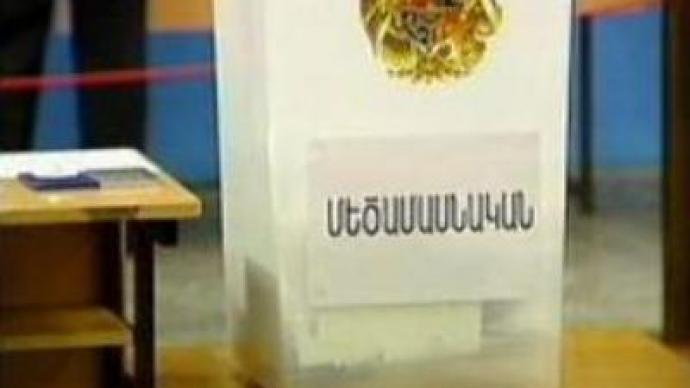 In Armenia, counting of votes has come to an end in the country's parliamentary elections. The Republican Party of Armenia headed by the country's Prime Minister, Serge Sarkisyan, is ahead with almost 50% of the vote.
Twenty two parties and one election bloc are running for 131 seats in the Armenian parliament. The parties must pass a five percent threshold to get into parliament, whose first session is scheduled for the end of May.The country's electoral commission says over one million people took part in the elections. Five parties have already made it with the Republican Party headed by Sarkisyan leading.The pro-presidential "Prosperous Armenia" party, which is seen as the key rival to the Republicans, is coming in second.The election was monitored by 53 local organisations and six international missions including the OSCE and observers from the CIS member-states.The opposition has warned it will bring people onto the streets if there is any vote rigging, but the monitoring groups have not pointed out any significant problems.
"We have not observed any violations in the counting procedure. The CIS observers believe that the election committee and executive bodies ensured that the Armenian nation can exercise its right to vote in this parliamentary election. The parliamentary election was open, transparent, fair and in line with the Armenian electoral legislation,"
said Vladimir Rushailo, Head of the team of CIS observers.
"Voting on the election day took place in a predominantly calm atmosphere. The conduct of the voting was assessed positively in the vast majority of polling stations observed. And the vote count, although very slow, was mostly conducted in a correct manner,"
said Tone Tingsgaard, an European observer. Representatives of several opposition parties who haven't made it to parliament have announced that they would not be on march because the regime change will not solve political problems. They have set the date for a new meeting for next Friday, May 18. Western monitors say the 2003 parliamentary vote fell short of democratic standards and this one is seen as a test for democracy.The parliamentary election is also considered to be a dress-rehearsal for the presidential elections – the incumbent Armenian President, Robert Kocharyan's, second term expires early next year.The Armenian Prime Minister, leading the frontrunner party, is seen as a possible successor.
You can share this story on social media: