Report claims U.S. military trained Georgian special forces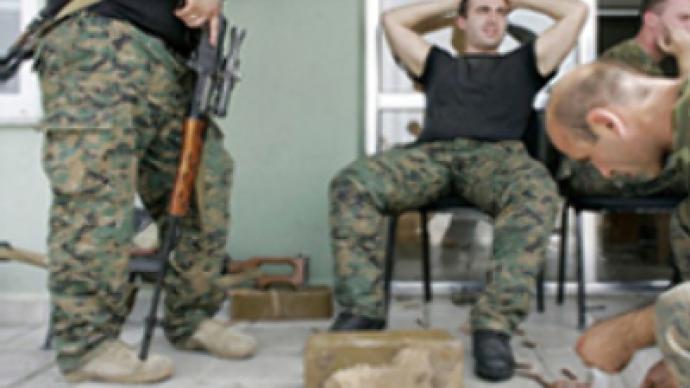 The U.S. military provided combat training to Georgian commandos just months before Georgia attacked South Ossetia, according to an investigation by the Financial Times newspaper. It reports that a 15-man team of American special forces veterans spent 70
The Financial Times obtained a recruitment email sent by a Pentagon contractor, MPRI, and a U.S. European Command spokesman confirmed the existence of the training programme when questioned about the email.
The trainers were paid US$2000 per week plus expenses to train the Georgian troops.
A U.S. army spokesman said that the training was provided to bring Georgian soldiers up to NATO standards so they could assist in military operations in Afghanistan.
While U.S. "train and equip" operations are often highly publicised, the military has remained tight-lipped about the Georgian programme.
"We can confirm the programme exists, but … we do not discuss specifics to ensure the integrity of the programme," a U.S. European Command spokesman told the Financial Times.
A second 70-day training phase was due to begin on August 11, four days after the Georgian attack on its breakaway republic of South Ossetia. The trainers had already arrived in Georgia when hostilities began and were staying in Tbilisi.
The confirmation that the United States trained Georgia's special forces troops adds extra weight to Prime Minister Vladimir Putin's suggestion that American citizens were directly involved in the South Ossetian conflict.
Putin said in an interview with CNN in August: "We have serious reasons to believe that American citizens were right at the heart of the military action. This would have implications for American domestic policy. If this is confirmed, we will have grounds to suspect that somebody in the U.S. has created this conflict to aggravate the situation and create a competitive advantage for one of the presidential candidates".
On the same day that Putin made the statement the Russian Defence Ministry announced that a passport belonging to a Texan resident was found in a house which had been occupied by Georgian commandos.
You can share this story on social media: