Registration deadline for foreign non-governmental organizations in Russia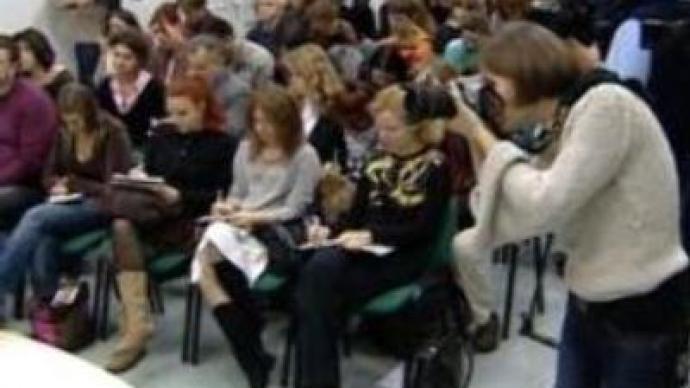 Wednesday is the last day for NGOs to register, as the government works out how many there are, and what they're doing. Foreign non-governmental organizations operating in Russia which haven't registered could see their work stopped.
New regulations to help the Russian Government monitor the spread of NGOs in the country are now in force. Those which have failed to register by Wednesday's deadline could see their activities suspended.The Federal Register Service or FRS tried to dispel what they call a "few myths" about the procedures. For instance the FRS says although October 18 is a deadline, it WILL continue the registration afterwards. No one knows the exact number of NGOs that are currently operating in Russia. The number varies from 200 to 600. So far the FRS has registered 80 foreign organizations, and 40 more are being processed. And according to them the NGOs don't seem to be in a rush to file. It's not just the law itself that's become a headache. But the numerous sublaws and the piles of paperwork that all NGOs will need to fill in. The big fear among NGOs remains – the tightening of state control. But there are those who disagree saying the law is a way for NGOs to come out of the shadow. For the majority of NGOs their future is vague, they are now waiting for recommendations that are being prepared by the FRS and the Public Chamber. And although the law came into effect half a year ago, most of the NGOs are still confused about the law's implementation, and how it will affect them in the long run.
A political analyst from the Carnegie Endowment for International Peace, Nikolay Petrov told Russia Today top NGOs could face problems while registering
.
"It was already reported that up to now only 80 organizations were registered and there is something like 500-600 of them. I would say that 3 quarters of those which were registered are endowments dealing with the adoption of Russian children. So they are not very important from the civil society's development point of view. There are three German foundations out of six, which are operating here in Russia. And there are only four foundations and the Carnegie Endowment which were already registered. So, all the other well-known foundations are either waiting, or they will be not registered and will stop their activity here in Russia."
You can share this story on social media: