Red Square march retraces war parade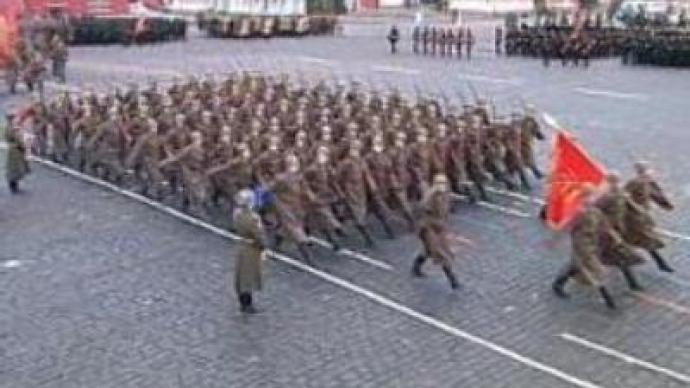 A re-enacted march marking 65 years since the historic November 7 Red Square parade of 1941 has stirred memories in Russian capital and expected to unite various groups of the society.
Servicemen and military cadets retraced the event, with war veterans as guests of honour – the anniversary idea was their own. Two thousand servicemen of Moscow's military district and a cavalry squadron dressed in the uniform of Great Patriotic War times marched across the capital's famous stones. In their footsteps came 2,500 young men from youth groups, clubs and military schools, alongside 108 old warriors who paraded themselves more than six decades past.Today's veterans prepared for war then as the German army approached within tens of kilometres of Moscow, assembled to demonstrate Soviet readiness to battle the Nazis. At the last minute, the parade was advanced by two hours to avoid enemy interference. Marching over, the troops headed straight to the frontline.Meanwhile, Russian Communists are celebrating the 89th anniversary of the 1917 Great October revolution. They are holding a rally near monument of Karl Marx in the centre of Moscow. The monument is just few hundred meters away from the Red Squire, just in front of the Bolshoi Theatre and often serves as a place for the rallies by the leftist political parties.
Several thousands people have already gathered there. The slogans held by the participants of the rally are generally anti-presidential and nostalgic of the Soviet era. But it is also possible to find some slogans there, supporting former Iraqi president Saddam Hussein, recently sentenced to death.
You can share this story on social media: